Introduction
AMD's Radeon RX 7800 XT graphics card is one of the strongest 1440p mid-range GPUs that we've seen in quite some time. This card provides fantastic performance metrics at 1440p in a number of the latest triple A games. But if you're looking to build a fresh PC with this new graphics card, how do you pick out a CPU to pair up with the 7800 XT? In this article, we'll be comparing the latest processors to determine the best CPU to buy for the AMD Radeon RX 7800 XT.
Our benchmarking and written team have come together to test a plethora of CPUs from both Intel and AMD, covering off a range of budget, mid-range, and top-end options to see which is the best pairing for the 7800 XT.
Our in-depth testing takes into account performance in the latest games, such as Fortnite, Starfield, Hogwarts Legacy, Baldur's Gate 3, along with metrics in both single and multi-core workloads.
Our in-house team of PC hardware experts individually review every product featured on this site, and in buyer's guides like this one. Learn about why you can trust our independent reviews and product recommendations.
Our Recommendation: AMD Ryzen 7 7800X3D
After taking a look at the results of our comprehensive testing of the best CPUs for the 7800 XT, our recommendation is the AMD Ryzen 7 7800X3D. With a number of recent price drops, the 7800X3D is the best value option within the Ryzen 7000 range, solidly building on the 3D V-Cache we saw with the previous generation CPUs.
And more importantly it does this, and offers the strongest gaming performance we've ever seen, which makes it such a solid pairing for the 7800 XT, especially if you're maxing out your games at 1440p.
All CPUs in Our Testing Roundup
Our Recommendations
1. Intel Core i5 13600K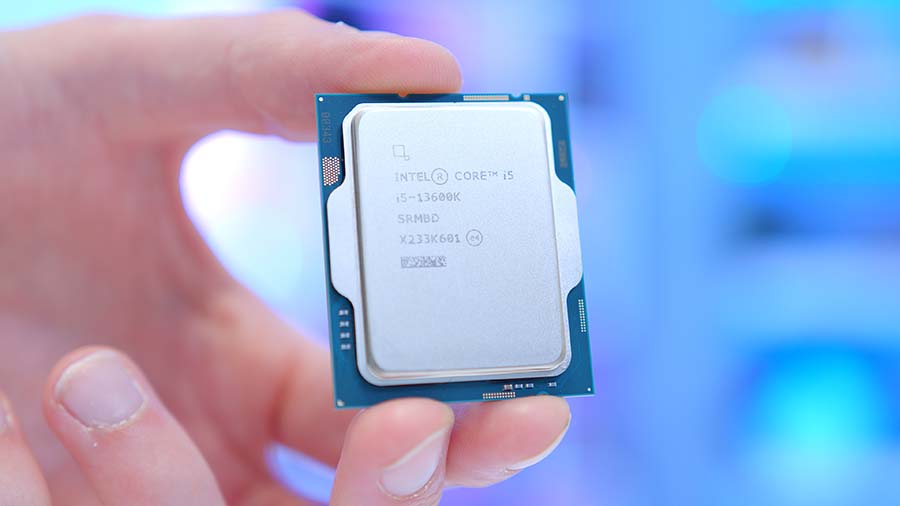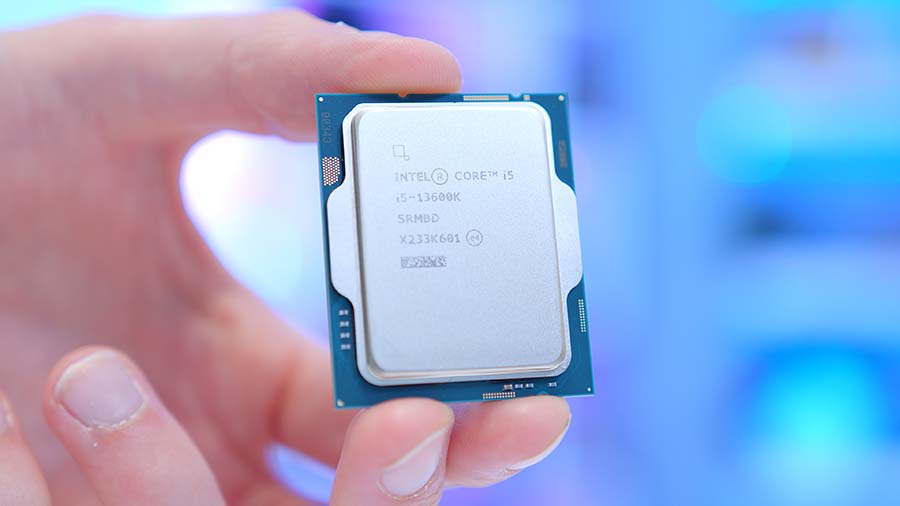 The Core i5 13600K has been a staple as one of the best value for money options on the market ever since it released at the tail end of 2022, offering performance that competes with some Core i7 and Ryzen 7 alternatives. The i5 13600K sports 14 cores and 20 threads in total, this CPU is also well-equipped to handle a range of single and multithreaded tasks, making it a viable option within a gaming-workstation hybrid. The Core i5 13600K is still one of the best value options on the market right now, offering an incredible value-proposition versus the majority of the alternatives. This Core i5 CPU provides excellent metrics at 1440p and 4K.
And because of the high core and thread count, it can easily handle higher intensity workstation applications that need a little bit more oomph from your CPU and GPU.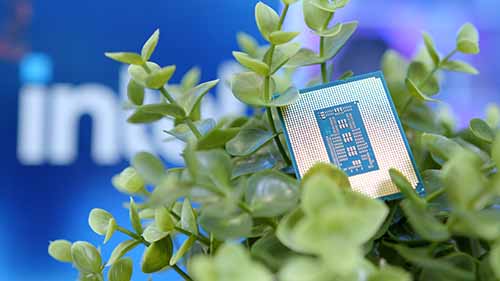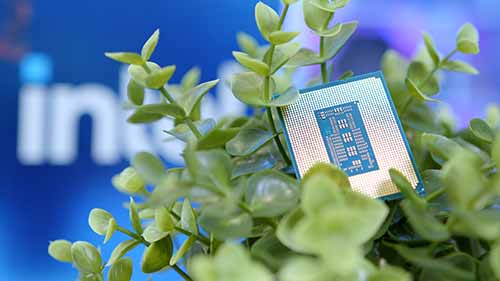 While the 13600K will be the go-to option for many, the biggest caveat to picking up this option are the thermals and power draw. This processor runs hotter, and requires more juice from your PSU in comparison to its 12th-Gen counterpart. But despite this, I feel this is a pretty small price to pay considering how strong of a value-proposition this CPU is, and how solid of a pairing it is with the 7800 XT.
Buy the Intel Core i5 13600K:
2. AMD Ryzen 7 7700X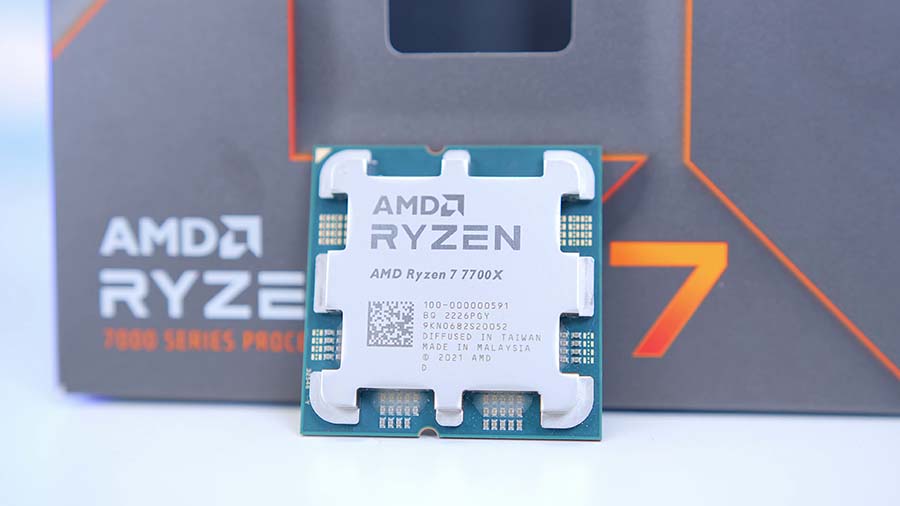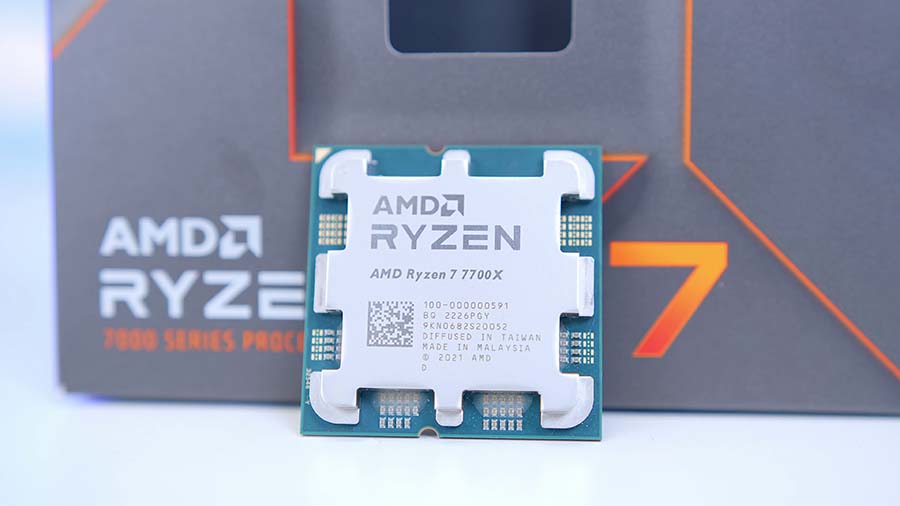 If you're looking for an affordable way to put together an AMD-oriented PC build for 1440p gaming, then the AMD Ryzen 7 7700X paired up with the RX 7800 XT is quite the combination. With a total of 8 cores and 16 threads, the 7700X doesn't look very powerful compared to the competition. However, the overclocking capabilities with up to 5.4GHz boost clock speed is enough to give a burst of gaming performance to any mid-range system, opening up the possibilities of 4K gaming. The 7700X is one of the more modern options and is a first generation CPU for the Ryzen 7000 range. This means you'll be able to upgrade with the times, and change your 7700X to a CPU like the 8700X, keeping your 7800 XT build nice and fresh.
The boost clock speed of the 7700X also provides a slight edge versus some Intel options which will be beneficial in some workstation applications and games too. The Ryzen 7700X is a strong competitor in the CPU space, but its biggest weakness are the thermals.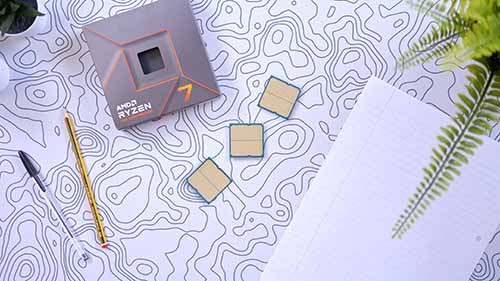 Due to the boosting behaviour of the 7700X and other Ryzen 7000 options, thermals will surge before the boost clock does, which means you need a solid CPU cooler in order to keep your 7700X cool. But despite this, as long as you've picked up a solid cooler option, the 7700X is an excellent CPU to pair up with the 7800 XT for an awesome gaming PC build.
Buy the AMD Ryzen 7 7700X:
3. Intel Core i7 13700K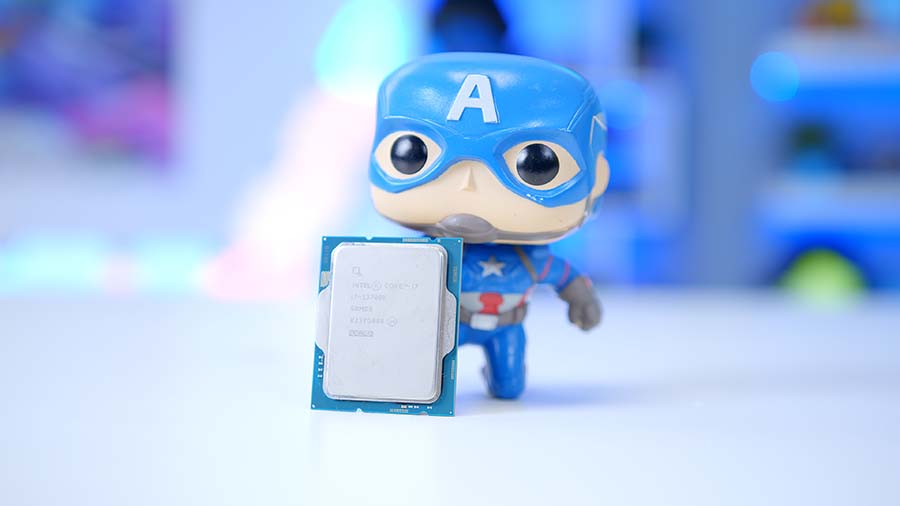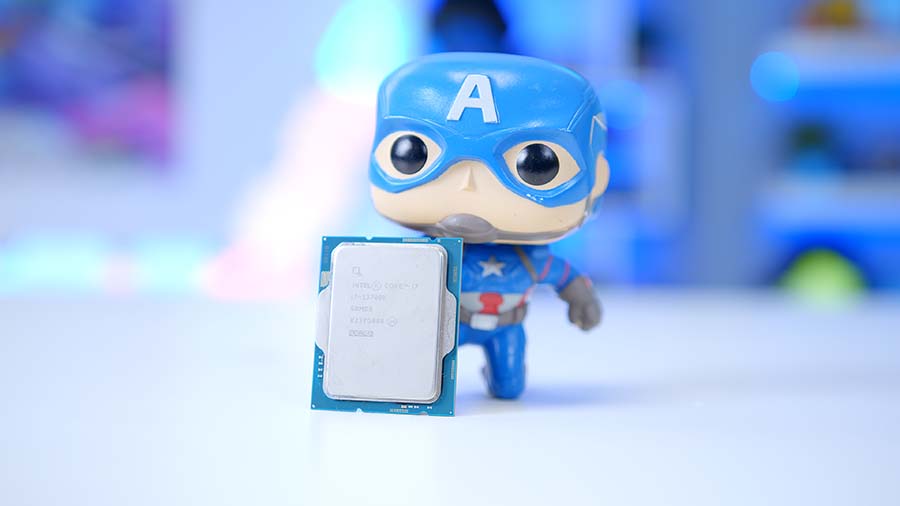 For gamers looking for some more firepower within their PC build, then Intel's Core i7 13700K is a strong choice that will take the performance of a mid-range system to the next level. With 16 cores and 24 threads, the i7 13700K will provide stable and responsive multifaceted performance at both 1440p and 4K, making it an ideal choice for those wanting to push the capabilities of their RX 7800 XT to the max. The Core i7 13700K's biggest strength is it's multi-core performance. The high core and thread count of this CPU will allow you to push your 7800 XT to the max with some intense workstation applications, like 3D rendering, or video editing. Much like the Ryzen 7 7700X, the biggest weakness of this cooler is the thermals.
The 13700K draws an insane amount of power, with the max turbo wattage sitting well over 250W. For this reason, you'll need to pick up a solid CPU cooler to ensure that the 13700K doesn't throttle or sustain any damage. But the thermals aside, the 13700K is definitely worth considering if you're looking to build a multifaceted workstation system with the 7800 XT.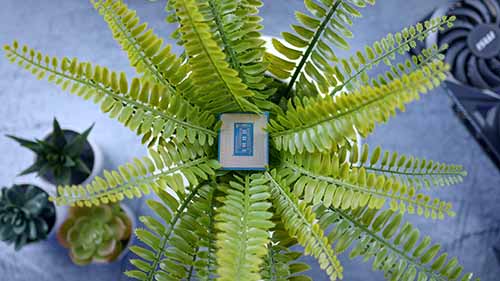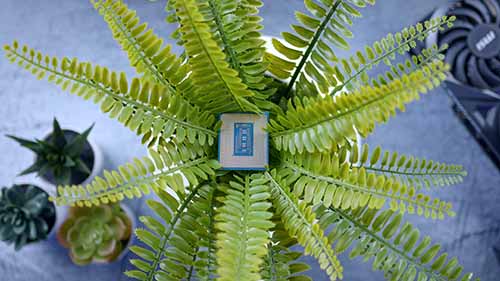 Buy the Intel Core i7 13700K on:
4. AMD Ryzen 7 7800X3D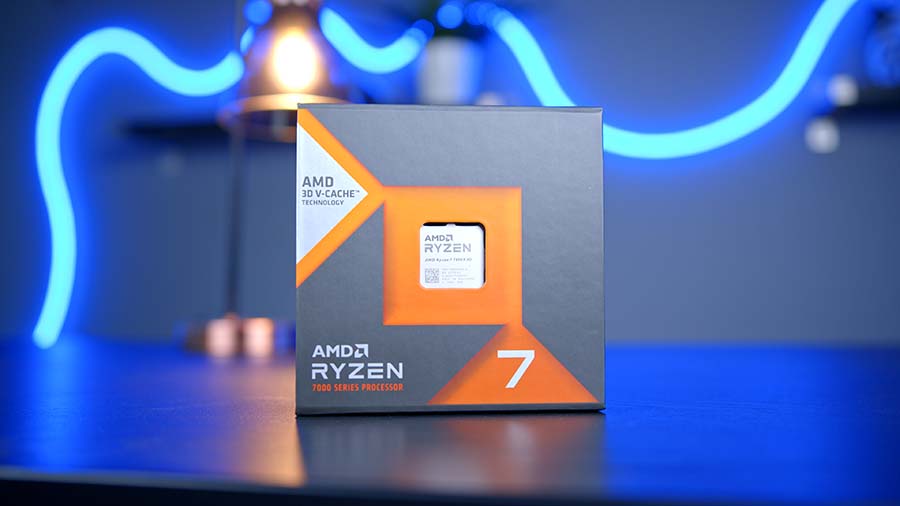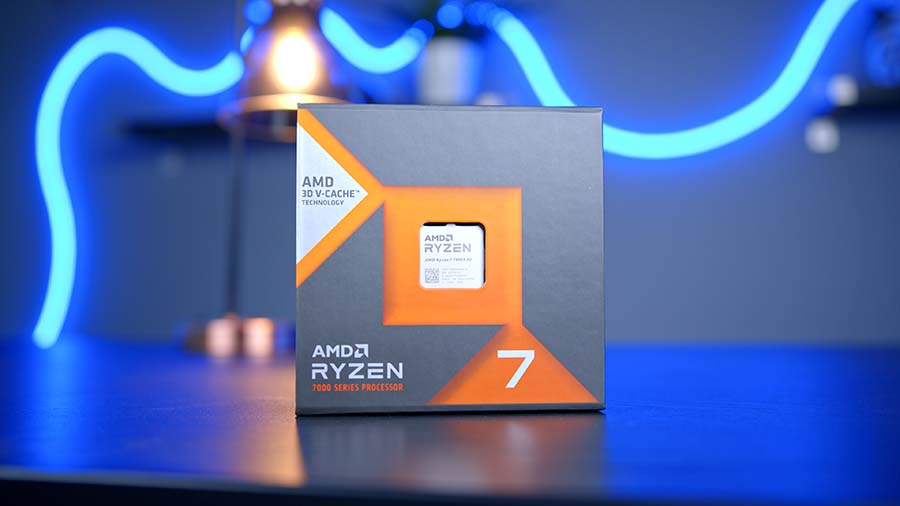 The AMD Ryzen 7 7800X3D is purposefully designed to offer the best gaming experience possible at a reasonable price. With a number of price drops recently, the 7800X3D is the best value option on the market right now if you're looking to max out your gaming performance. AMD's 3D V-Cache has come an extremely long way, and combined with high boost speeds, your framerates with the 7800 XT will absolutely skyrocket. During our testing of the 7800X3D, we found that this CPU was the best performer in games, even versus options like the Core i9 13900K and KS models. There are few CPUs that can remotely rival this option, and because of the solid price point that the 7800X3D is available at right now, gamers are flocking to pick up this processor.
Unfortunately, the biggest weakness of the 7800X3D is its multifaceted performance. The vast majority of AMD's options, including the 7800X3D aren't able to beat out their Intel counterparts when it comes to core counts. So despite the solid gaming capability, workstation applications are not the strong suit versus market alternatives. But regardless of this, the 7800X3D still remains as one of the best CPUs for gaming, especially when paired up with AMD graphics cards like the 7800 XT. Regardless of the multi-core performance, the 7800X3D will still be more than capable for tougher threaded workloads.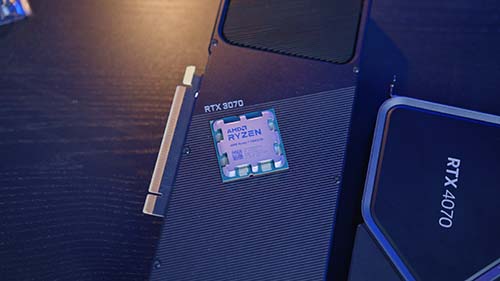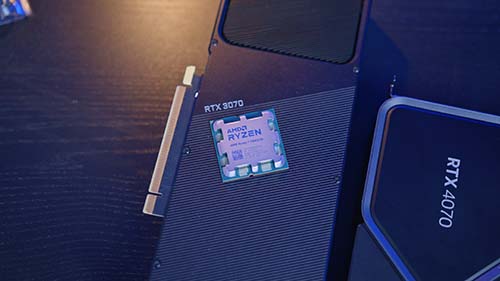 Buy the AMD Ryzen 7 7800X3D on:
RX 7800 XT Performance Benchmarks
The RX 7800 XT is a very strong graphics card when purely looking at the specs, but the proof is in the pudding. Our in-house benchmarking and written team have put a number of 7800 XT graphics cards through their paces and compared them against both current and previous generation options from AMD, Intel, and NVIDIA. Our full testing suite includes a range of triple A titles like Baldur's Gate 3, Starfield, Hogwarts Legacy, and more, to ensure we're seeing exactly how this card performs versus the market alternatives. The main considerations that we take into account when benchmarking graphics cards are:
Thermals
Size
Gaming and Workstation Performance
Power Consumption
Design & Aesthetic
Value-Proposition
Starfield @ 1440p
For our first benchmark, we fired up Bethesda's brand new title, which coincidentally launches at the same time as the 7800 XT. This card did offer decent performance, leading the graph with an average framerate of 85FPS. Ultimately we would've liked to see stronger performance in this title, but this goes to show how unoptimised Starfield is versus other titles. We've got our fingers crossed in hopes that new drivers and further patches should help the frame struggles of this game.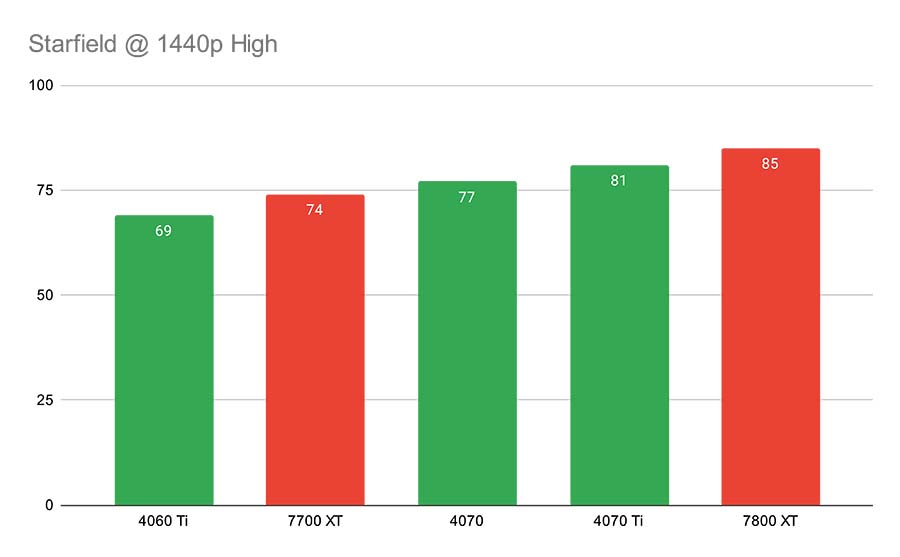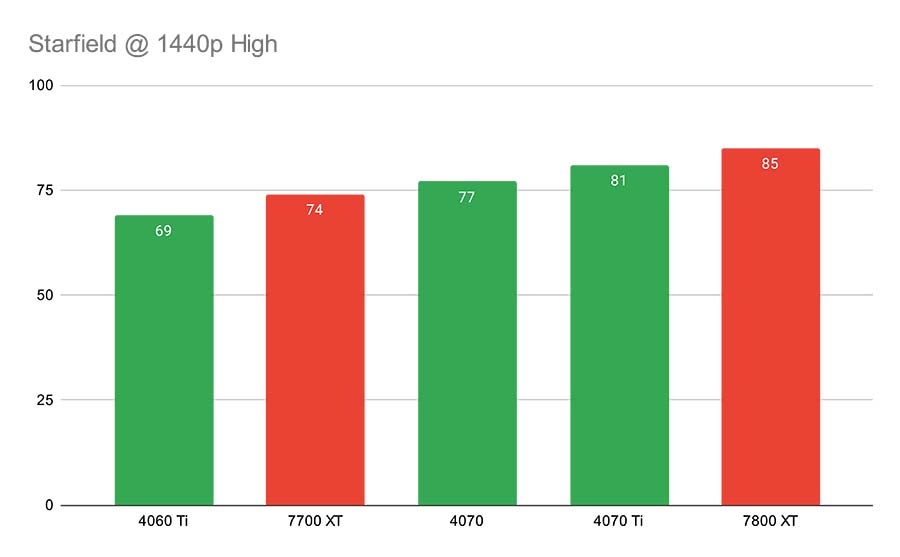 Hogwarts Legacy @ 1440p
In Hogwarts Legacy at 1440p high settings, we saw pretty solid performance from the 7800 XT. Framerates did dip slightly versus some of our less intense titles, but 109FPS is more than playable, and will be fine for the majority of consumers. Although we'd love to see this card reach that 144Hz sweet spot, as you can see from our graph, there aren't many cards that can even surpass this point, which isn't surprising considering how much stress this game puts on our GPU. Needless to say, performance is still pretty strong overall at 1440p.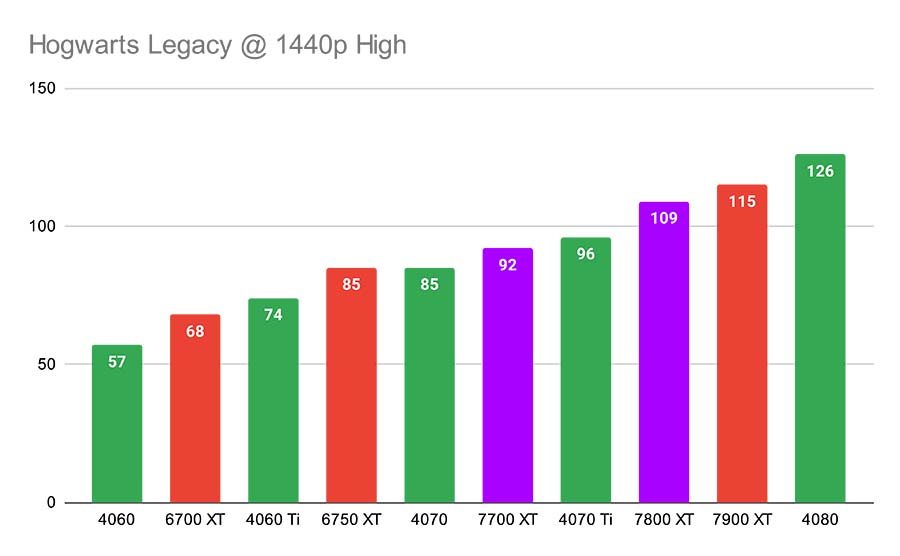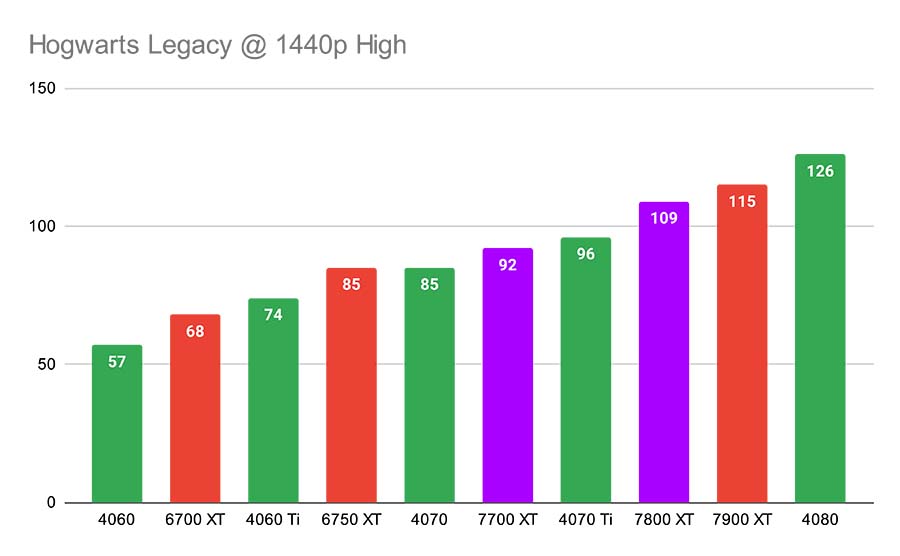 Apex Legends @ 1440p
In Apex Legends at 1440p we saw framerates absolutely skyrocket with the 7800 XT, with this card outputting an average framerate of 256FPS. The majority of consumers aren't ever going to need performance that reaches this level, but for those with high refresh rate displays, you'll be able to benefit from this. Apex is a pretty intense title, so the higher the refresh rate, the better. This goes to show how well the 7800 XT can perform when the title you're playing is pretty well optimised.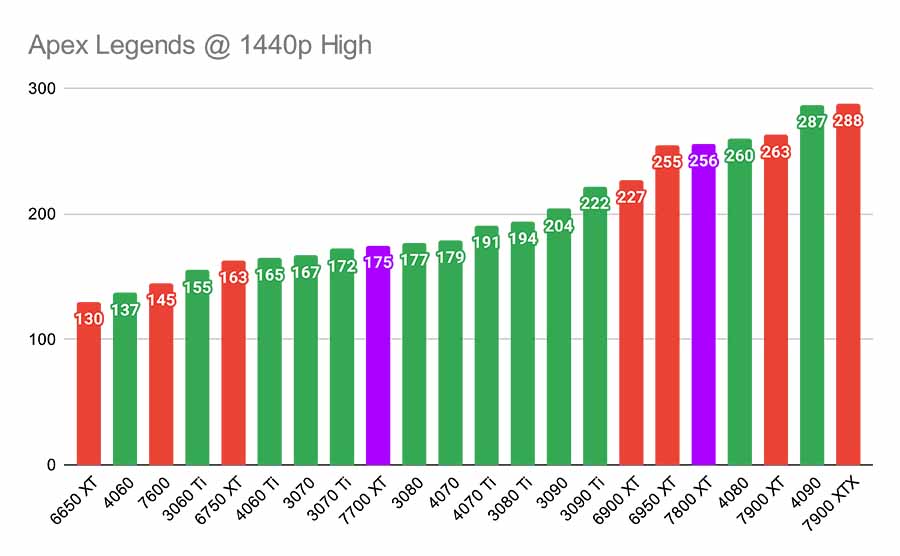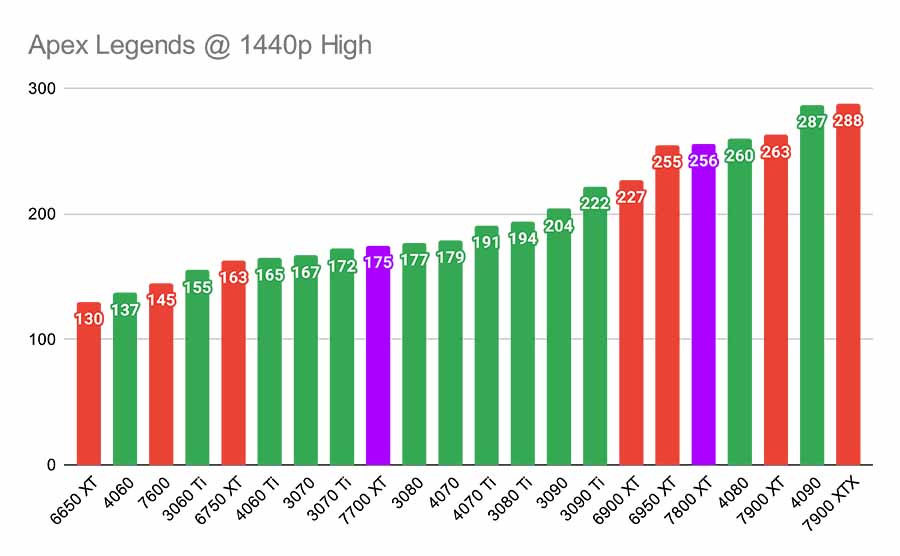 Apex Legends @ 4K
At 4K performance did fall slightly, with the 7800 XT offering up around 148FPS on average. This wasn't surprising to see, just because 4K tends to impose a significant amount of stress on your GPU due to the number of pixels. Regardless, we were pretty happy with performance overall. In this game, consumers can still enjoy that all-important 144Hz sweet spot, and if you mess around with some in-game settings, you'll be able to add a few more frames for redundancy. We can only imagine how strong performance would be in this game if FMF were to be implemented, which is a pretty exciting prospect for those that play the majority of their games at 4K.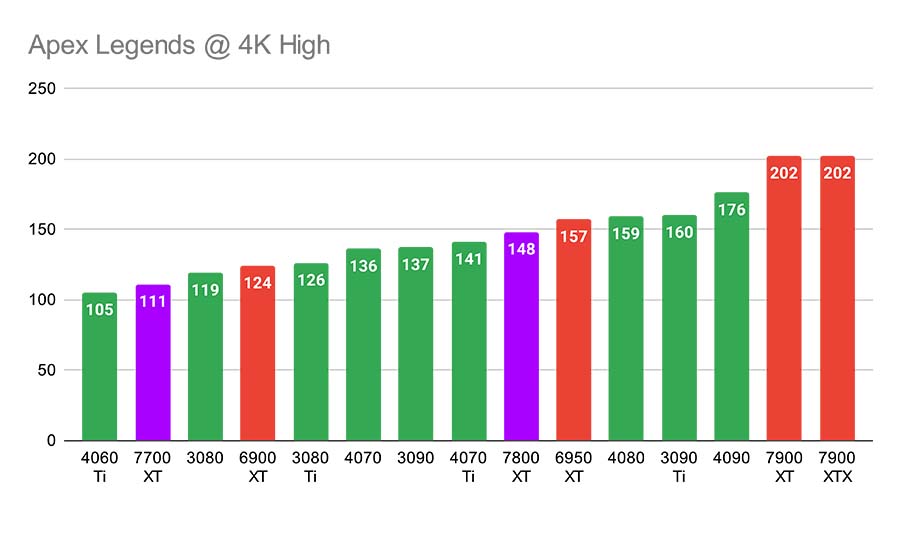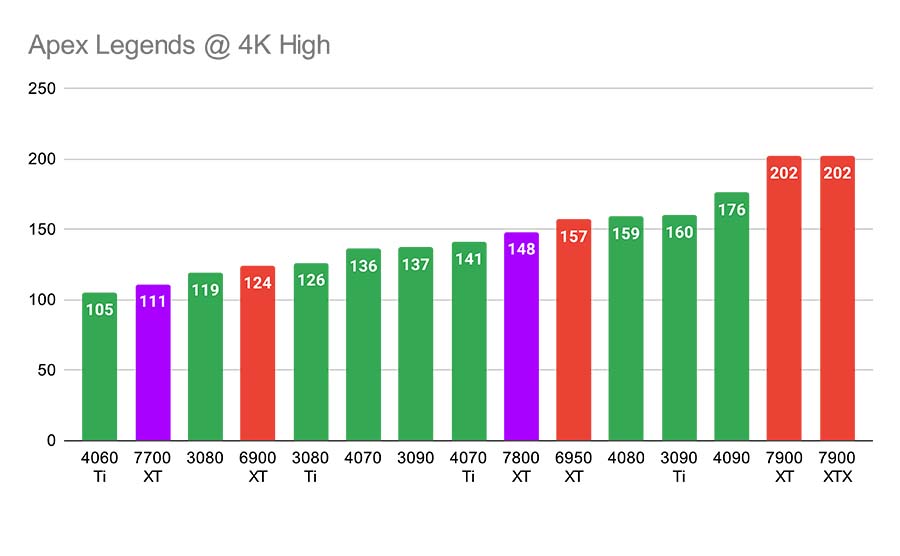 Frequently Asked Questions
What CPU Should I Buy for a 1440p Gaming PC?
We'd recommend picking up either a '5' tier or '7' tier CPU for 1440p gaming. For those on a budget, a Core i5 or Ryzen 5 CPU will do, whilst those looking for improved performance should consider a Core i7 or Ryzen 7 processor.
Are Ryzen 3D CPUs Good for Gaming?
Yes. Thanks to the additional layer of L3 cache, AMD's Ryzen 7000 3D variants are an excellent choice within a gaming PC.
Can the RX 7800 XT Play Games at 4K?
In most cases, yes. When paired with a powerful CPU, the 7800 XT will be able to play a range of titles at 4K while maintaining respectable framerates throughout.
Are Clock Speeds Important for Gaming?
Yes. Clock speeds can have a major impact on performance, as faster clock speeds allow the processor to handle tasks at a better pace.
Conclusion
Best CPU for the RX 7800 XT Graphics Card: AMD Ryzen 7 7800X3D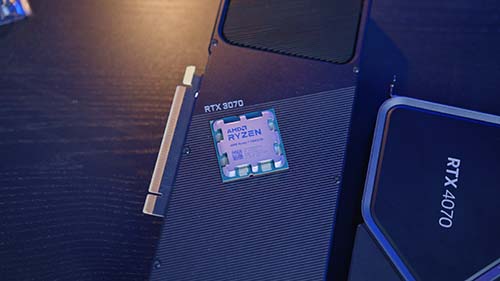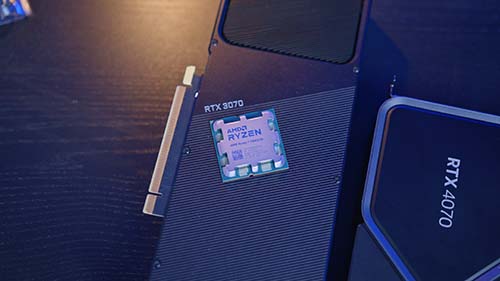 Following our test results of a number of popular CPUs on the market, we've concluded that the best CPU for the RX 7800 XT graphics card is the 7800X3D. The reason why we've determined this CPU to be the best pairing for the 7800 XT is down to value-proposition. The Ryzen 7 7800X3D comes in at an extremely competitive price point, and is also the strongest gaming CPU on the market. There are effectively no other options that can rival this processor in triple A games, making it an extremely compelling option to pair up with the 7800 XT.
Read our full AMD Ryzen 7 7800X3D coverage, or Buy the AMD Ryzen 7 7800X3D on Amazon