Introduction
In light of AMD's Ryzen 7000 CPU announcement at Computex, we've been eagerly awaiting new information that might go some way to reveal more details about AMDs upcoming release.
That makes today particularly exciting, because ASRock has just released their product pages for motherboards built around AMD's newest chipset, X670E. We'll be breaking down the specs, and giving our thoughts on the new motherboards launching this fall with Ryzen 7000.
Suggested Article: AMD X670E VS X670 Motherboards – Key Differences & What To Expect
What is Ryzen 7000?
AMD have been in the CPU game for as long as anyone can remember, and Ryzen 7000 is their latest line-up of CPUs which AMD hope to blow Intel's 12th gen out of the water. Although there wasn't a huge amount of information released by AMD during Computex of this year, we've been keeping our ears low to the ground for information about the new CPUs and motherboards where we can find it.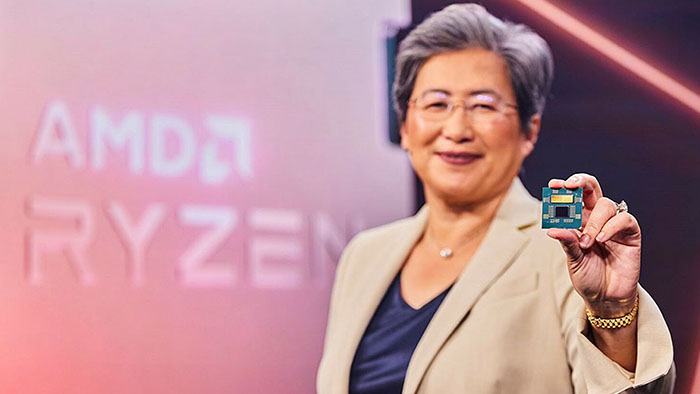 AMD's latest CPUs come are releasing after a five year stint of their popular AM4 socket, the platform which landed with AMDs first generation of Ryzen CPUs. Ryzen 7000 is to feature an all new socket (while handily retaining CPU cooler support), DDR5 memory support and widespread PCI-E Gen 5 for both GPUs and SSDs. Intel really surprised us with their 12th Gen CPUs, placing added pressure on AMD's answer.
New ASRock X670E Product Pages
During the Computex 2022 announcement, AMD announced that there were going to be five flagship AM5 motherboards utilising the X670E chipset. AMD showed off entries from all of the major brands, including a surprising return from Biostar to the consumer motherboard space. Biostar were a really popular consumer manufacturer quite some time ago.
The drought of information has now ended, as ASRock release lots of new information about their X670E boards, following the publish of motherboard product pages on the ASRock website.
ASRock X670E Taichi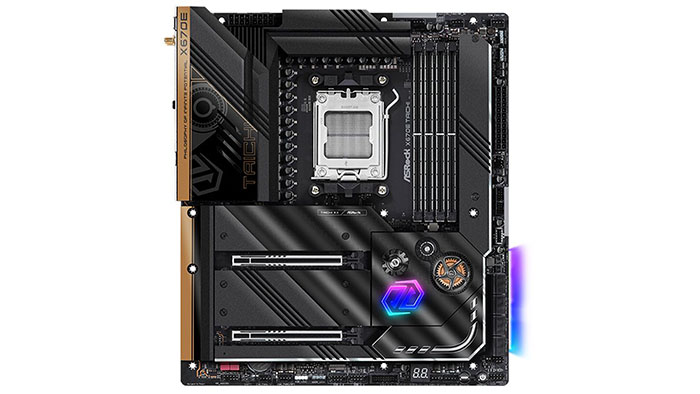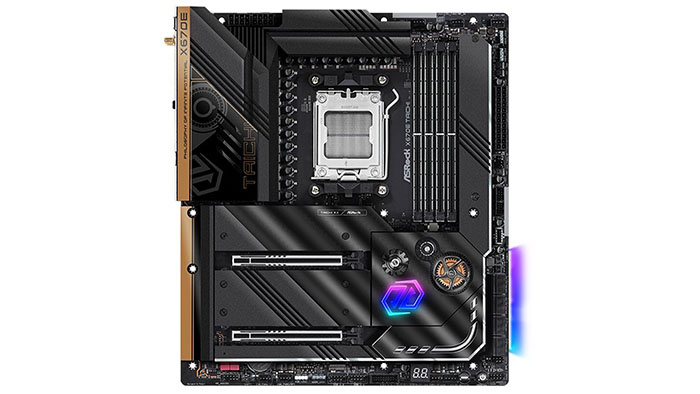 The X670E Taichi was one of the flagship boards to be announced at Computex. We knew it was going to look great from the little thumbnail you can see on AMD's website, but this board honestly looks awesome. The brass/gold accent down the rear IO and heatsink looks great, and the signature steampunk cog design on the extended heatsink really demonstrates ASRock's eye for design.
In terms of features, the ASRock 'Taichi' range of boards never disappoint. With a 26 phase (yes, you heard me right… 26) DR.Mos power delivery system, this is going to be monstrous for overclocking. 26 phases is fairly insane, and also hints at the power these new AMD CPUs are looking to consume! When it comes to PCI-E we're looking at two Gen5 slots for GPUs, with one running at x16 and the other x8. You have eight SATA 3 ports for storage, one Gen5 M.2 slot, and three Gen4 M.2 slots. Rear IO is equally awesome with this board featuring eight USB Gen3 ports on the rear, with five of them delivering Gen 2 speeds, and three delivering Gen 1 speeds. You've also got onboard WiFi 6E, 2.5 Gigabit LAN, and Bluetooth.
ASRock X670E Taichi Carrara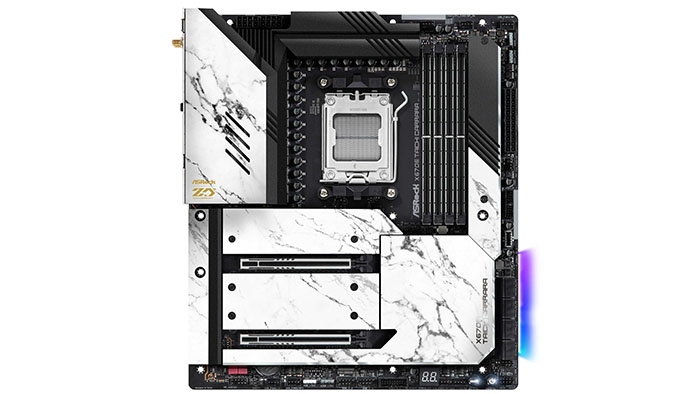 Next up in the new ASRock stack is the X670E Taichi Carrara. With an incredible aesthetic, the extended heatsink has a sleek marble finish that gives the motherboard a very premium design. If you're trying to build a white-themed PC, something which is becomingly increasingly common, this might just be the motherboard for you!
In terms of features, this board isn't too dissimilar from the flagship X670E Taichi board. You've got the same amount of PCI-E Gen 5 expansion for GPUs and SSDs, with strong Gen 4 support, also. The biggest difference here is that this board has two Thunderbolt USB 4 Type-C ports. If you're looking for crazy USB speeds, here is where you'll find it. The rear IO of the two boards is also pretty similar, with eight high speed USBs, a single 2.5 Gigabit LAN, WiFi 6E and Bluetooth. ASRock has taken a similar approach to features here, but provides consumers with an alternative look that is set to bring a 'wow factor' to your build.
ASRock X670E Pro RS
The ASRock X670E Pro RS is a board that we're assuming is going to be the more mid-range X670E option. Aesthetically, it still looks awesome but there's much more exposed PCB and less heatsink spanning the board. ASRock's signature and unique steampunk industrial look is engrained into the PCB and looks fantastic, if a little more simple.
In terms of features, the product page seems to show a lot less, raising questions as to why this is an X670E and not an X670 board. You've still got a PCI-E Gen5 slot running at x16 which is great, but there doesn't actually seem to be another x16 or x8 slot at all which is somewhat odd. This will help to keep costs down, but undoubtedly makes a big sacrifice when it comes to expansion. On the board we are also seeing the inclusion of a single M.2 slot capable of running at Gen5 speeds. Although the product page doesn't detail this, we can make out on the rear IO that you've got access to five high speed USB ports, and four USB 2 ports. You've also got optical out for audio, WiFi 6E and 2.5 Gigabit LAN.
Summary of Features Table
We've been given loads of information from the new product pages, so we've summarised them in a table so you can see what's available. As a note, the X670E Pro RS doesn't look like it has all of information updated on the product page, so we'll update this article as soon as we see more.
Features
ASRock X670E Taichi
ASRock X670E Taichi Carrara
ASRock X670E Pro RS
VRM Power Phases
26 SPS Dr.MOS
26 SPS Dr.MOS
?
Memory Generation
DDR5
DDR5
DDR5
GPU Slots
1 PCI-E 5.0 x16, 1 PCI-E 5.0 x8
1 PCI-E 5.0 x16, 1 PCI-E 5.0 x8
1 PCI-E 5.0 x16
Storage
8x SATA 3,
1x PCI-E Gen5 M.2,
3x PCI-E Gen4 M.2
8x SATA 3,
1x PCI-E Gen5 M.2,
3x PCI-E Gen4 M.2
SATA ?
1x PCI-E Gen5 M.2
USB Ports
2x USB4 Type-C Rear,
1x Front USB 3.2 Gen2x2 Type-C,
5 USB 3.2 Gen2 Type-A Rear,
3x USB 3.2 Gen1 Type-A Rear,
4x USB 3.2 Gen1 Type-A Front
2x USB4 Type-C Rear,
1x Front USB 3.2 Gen2x2 Type-C,
5 USB 3.2 Gen2 Type-A Rear,
3x USB 3.2 Gen1 Type-A Rear,
4x USB 3.2 Gen1 Type-A Front
5x USB 3.2 Gen1 Type-A Rear,
1x USB 3.2 Gen2 Type-A Rear,
1x USB 3.2 Gen2x2 Type-C Rear?
4x USB 2?
LAN
Killer E3100G 2.5 Gigabit LAN
Killer E3100G 2.5 Gigabit LAN
Dragon 2.5 Gigabit LAN
WiFi
Killer AX1675X 80.11ax WiFi 6E + Bluetooth
Killer AX1675X 80.11ax WiFi 6E + Bluetooth
WiFi 6E
Pricing Expectations
$450 – $700
$450 – $700
$300 – $450
Closing Thoughts
As you can see from the new product pages, some of the upcoming X670E designs look insane. Aesthetically they all look very good, but the Taichi Carrara is certainly a standout. The marble design really adds something unique and will definitely hit the spot when trying to strive for an all-white build. I'm personally in love with the golden/brass finish on the standard Taichi board, too.
Aside from the cheaper X670E Pro model, these boards look to bring a fairly bonkers feature set into play. With insane overclocking support on paper, fantastic connectivity and plenty of bandwidth at play, these are set to bring some great next-gen features to the market. Now it's a simple case of waiting for the other major manufacturers to bring forward their new AMD Ryzen 7000 designs, before comparing which board is best.