Introduction
When building a gaming PC it is important to pick a memory or RAM kit that ensures your gaming PC can perform in tip-top shape. Selecting the right kit, with the correct mix of capacity and speed can be tricky. Should you go for a tried and true Corsair kit, or something from other major players such as Teamgroup, Crucial or Kingston? Here we'll be looking to answer that very question, with some of our recommended RAM kits for those shopping around the DRAM market.
As the change to DDR5 accelerates, we'll be phasing out DDR4 recommendations, but in this article we have included both to make sure all sides of the market are catered for! You can read our dedicated DDR4 recommendations and dedicated DDR5 recommendations for more detail on each specific type.
What is RAM?
The sole purpose of RAM is to act as short-term memory for the CPU in a build to access. If a CPU were to pull all of its data from a hard drive or an SSD, you would see lots of bottlenecking. This is when components slow down other components in a PC, effectively holding back their performance,
Due to the high clock speeds of memory, data can be transferred at insane speeds, with even lower-end DDR4 memory capable of reaching 20GB/s in transfer speeds. This is around six times faster than a standard, Gen 3 NVMe drive. RAM is also closer to your CPU in terms of physical location and the electronic resistance, reducing latency and increasing speed.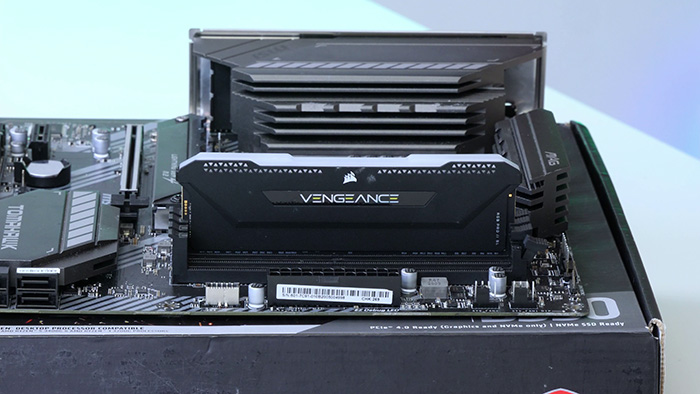 Suggested Article: What is RAM & What Do You Need it For?
Options to Consider
When choosing which RAM kit is best, there are lots of factors to consider. For example, do you need the high capacity a 64GB kit would offer? And will there be enough clearance for your CPU cooler? These are the kind of questions you should ask yourself when picking out RAM, as your memory kit will affect other areas of your build, and we've covered the most important ones below.
1. DDR4 vs DDR5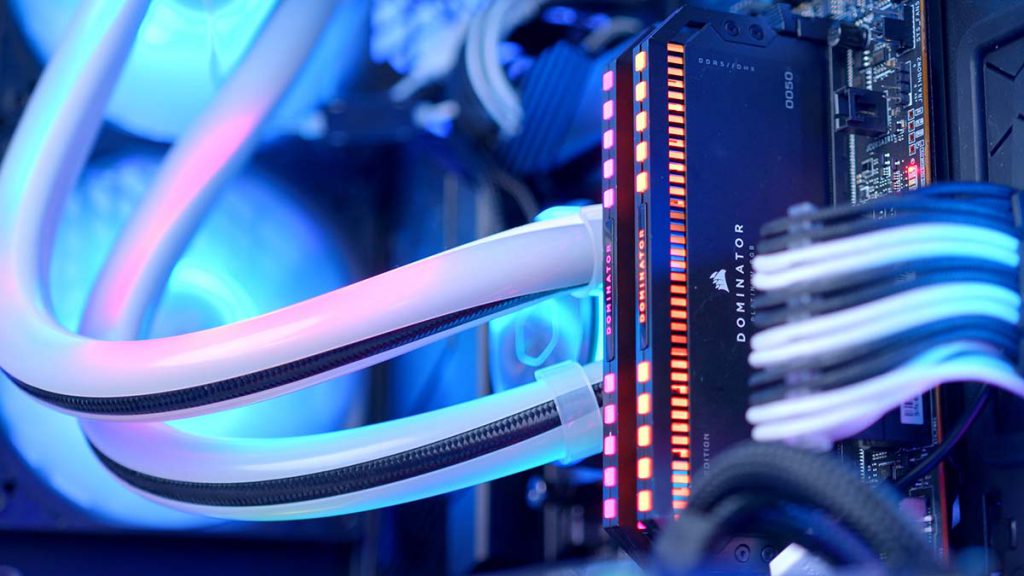 Firstly is the difference between generations. DDR was originally launched in June of 1998, with DDR2 following five years later in 2003. Today, the standards of DDR4 and DDR5 run simultaneously, as we look towards phasing out DDR4. This phase out will likely take multiple years.
This means that you should check which type your CPU and supports, and which slot types are included on your motherboard. The DIMM slots for both standards look the same, but do differ slightly. Top-end systems, and those using brand new CPUs, will likely lean towards DDR5 memory.
2. Latency and Clock Speeds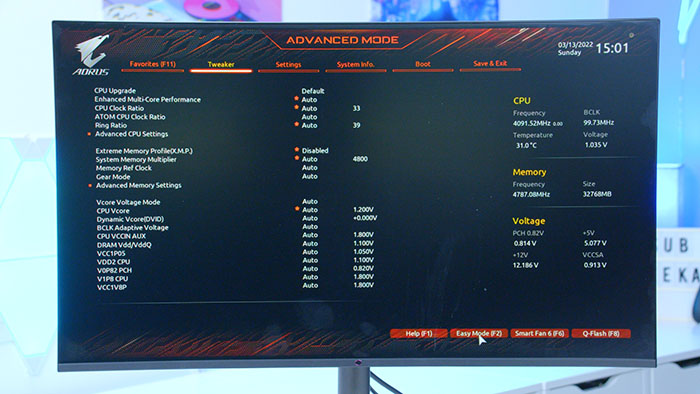 A large factor which affects the price and performance fo memory is the clock speeds and latency. Clock speeds essentially determine how fast RAM can transfer data. CAS latency goes hand-in-hand with clock speed, because this is how quickly data is accessible. The time taken from the PC wanting to access the memory, to the read or write beginning. In short, the higher the clock speed, the better. And the lower the latency, the better. Both of these areas will see price increases, and as with most things, are areas of diminishing returns. AMD Ryzen users will benefit particularly from using high-speed RAM, due to Ryzen's chiplet CPU design.
3. RGB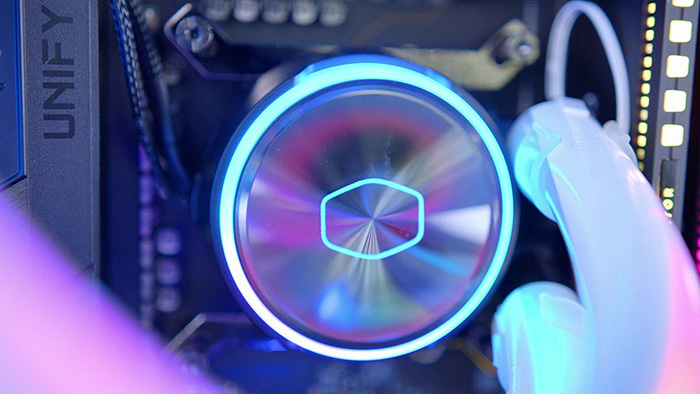 There's nothing better than a bright, glowing kit of memory …at least not in my opinion! RGB is a feature that has become widespread ever since the launch of DDR4. Different manufactures do it with varying degrees of success, with different types of RGB, varying ways to control lighting effects and different RGB designs. If you're looking to customise your system to the fullest, we love building systems compatible with with Corsair iCUE, while XPG, Teamgroup, Kingston and Thermaltake are also a solid shout.
4. RAM Profile (Height)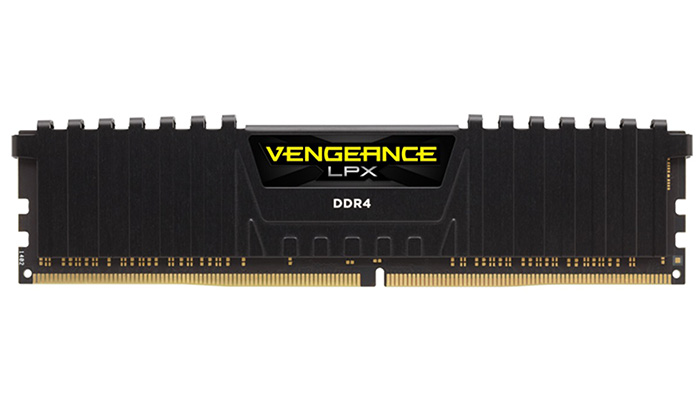 Lots of brands offer consumers low-profile memory kits, to aid compatibility with other components. These kits are shorter sticks which often lack RGB, but are designed to fit in smaller form factor builds. Alternatively, if you have a particularly large cooler, you may find you don't have enough clearance for a flashy set of G.Skill Trident Z Royals. Instead a low-height, low-profile kit may be a better shout. These kits won't affect performance, but check latency and clock speed info before buying.
5. Capacity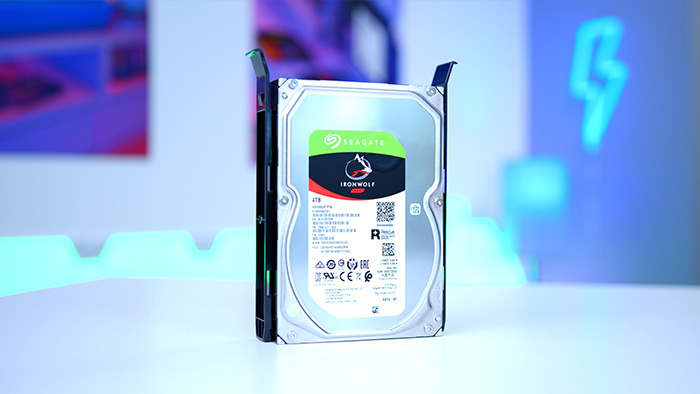 Another important area to discuss is capacity. Nowadays, games, applications, and operating systems are constantly pushing up the requirements needed for them to function. This means that you'll need a minimum of 8GB for general day-to-day growing, while 16GB is the level you'll want to meet for a budget-oriented gaming PC. For those gaming at 1440p or above, 32GB is fast-becoming the optimal, recommended amount. As CPUs and GPUs get more powerful, the requirement on RAM capacities has, and will continue to, increase.
6. Use-Cases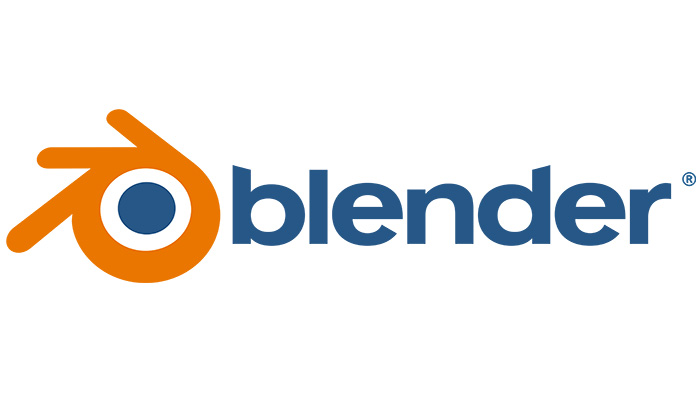 The overriding consideration when picking the parts for any build is the use case. Just what are you looking to use the build for? If you are a consumer that plans on gaming only, 16GB or 32GB will sufficient, depending on the power of your other components. Those using their PC builds for video rendering in applications such as Blender or Davincii Resolve, will want to head up the RAM order. Here at Geeka Media HQ our editing systems commonly chew threw 64GB and 128GB kits, with more RAM hugely beneficial for our video editing use case.
Best RAM Kits to Buy in 2022
We've picked out three kits from our selection and given them a GeekaWhat award based on their pricing, performance, and design.
Best DDR4 Kit: Corsair Vengeance LPX 16GB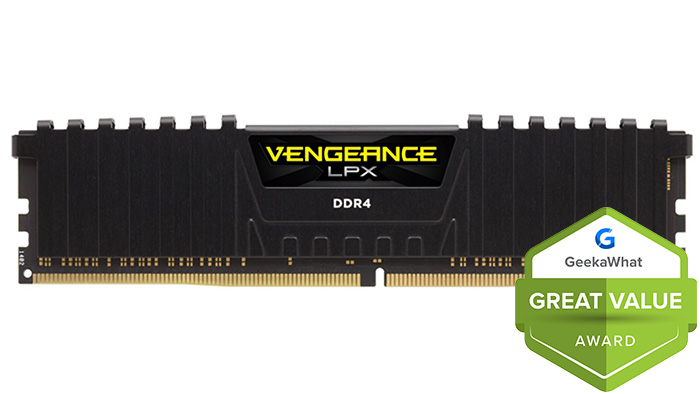 Pros
Cons
✅ Great value, with a good price point for entry level builders.
✅ Low-profile form factor reduces cooler clearance issues.
✅ Relatively high clock speeds.
❌ Pretty basic aesthetic.
❌ Lack of included RGB.
❌ Limited for those looking at very-high clock speed kits.
Check the price of the Corsair Vengeance LPX on:
Best DDR5 Kit: G.Skill Trident Z5 32GB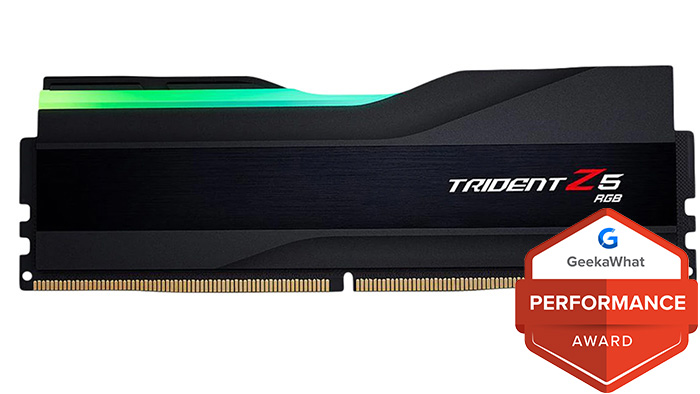 Pros
Cons
✅ Lowest latency DDR5 kit available.
✅ Sleek RGB strip on the top of the memory DIMMs.
✅ 32GB capacity is plenty for most consumers.
❌ Very expensive.
❌ DDR5 tech is still maturing.
❌ Performance upside is limited compared to high-end DDR4 kits.
Check the price of the G.Skill Trident Z5 on:
Best Aesthetic Kit: Corsair Dominator Platinum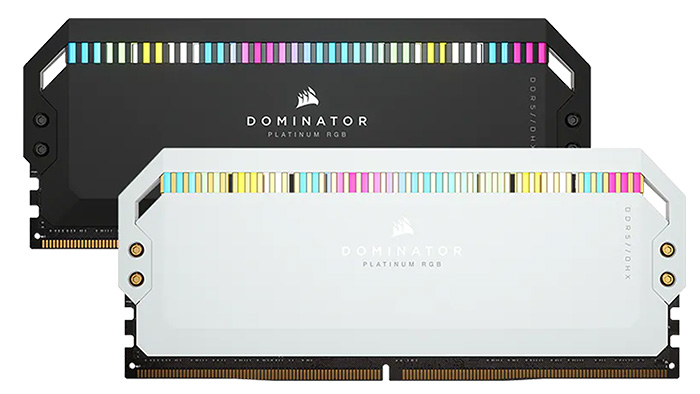 Pros
Cons
✅ Comes in both DDR4 and DDR5 variations.
✅ Utilises Corsair Capellix LED technology.
✅ Futuristic look is awesome.
❌ Quite expensive for DDR4 or DDR5 kits.
❌ DDR5 doesn't offer a big performance bonus.
❌ Size may impact cooler clearance.
Check the price of the Corsair Dominator Platinum on:
Our Recommendations
1. Crucial RAM CT8G4DFRA266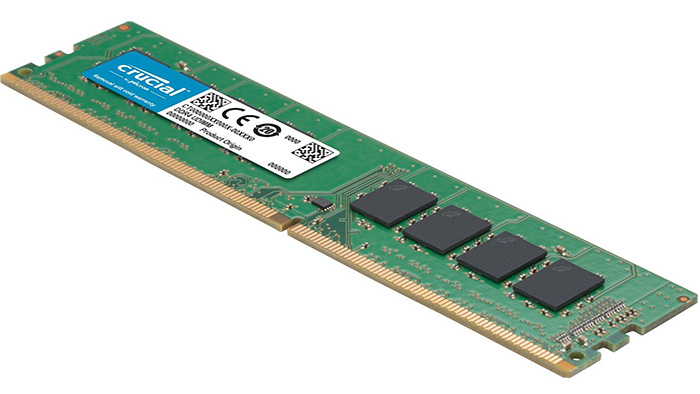 This Crucial RAM DIMM is a brilliant entry level memory stick. This stick is one of the cheapest options available boasting a slightly slower 2666MHz clock speed. It doesn't offer much in terms of aesthetic, but if you're looking to build a super-budget gaming PC, then this Crucial DIMM will be perfect to save you some money.
Specs List:
Kit Capacity: 8GB
Memory Speed: 2666MHz
CAS Latency: CL19
Memory Generation: DDR4
RGB: No
Colour Options: N/A
Buy the Crucial 8GB RAM DIMM on:
---
2. Corsair Vengeance LPX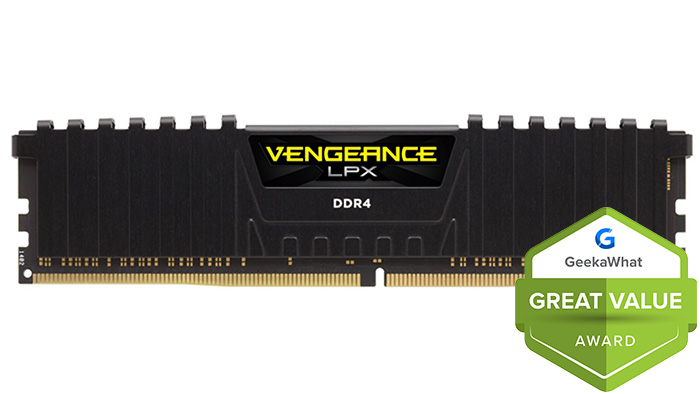 Corsair's Vengeance LPX kit is one of our favourite options on the market. This kit offers very competitive performance for an extremely reasonable price. 16GB tends to be plenty for most consumers and for well under $100 you can pick up this low-profile kit. You're not getting much in terms of visual flair, but what it lacks in aesthetic, it makes up for in cost and performance!
Specs List:
Kit Capacity: 16GB
Memory Speed: 3200MHz
CAS Latency: CL16
Memory Generation: DDR4
RGB: No
Colour Options: Black/Red
Buy the Corsair Vengeance LPX on:
---
3. Corsair Vengeance RGB Pro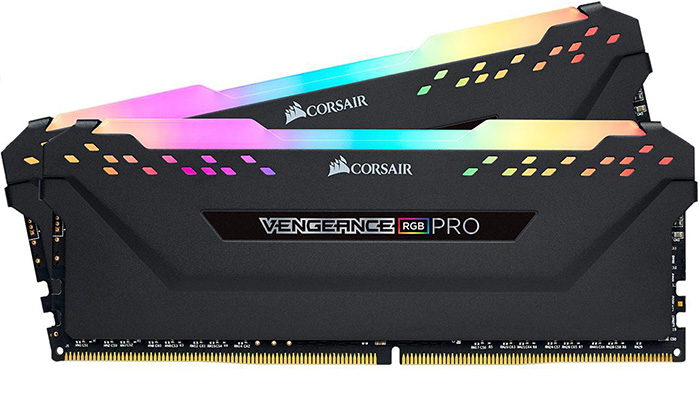 The Corsair Vengeance RGB Pro design combines both aesthetic and performance. This kit is rated for a speedy 3600MHz, perfect for gaming performance and workstation applications. This RAM kit also comes in both black and white providing an alternative colour choice for those that want to make a clean white build.
Specs List:
Kit Capacity: 16GB
Memory Speed: 3600MHz
CAS Latency: CL18
Memory Generation: DDR4
RGB: Yes
Colour Options: Black/White
Buy the Vengeance RGB Pro on:
---
4. ADATA XPG Spectrix D60G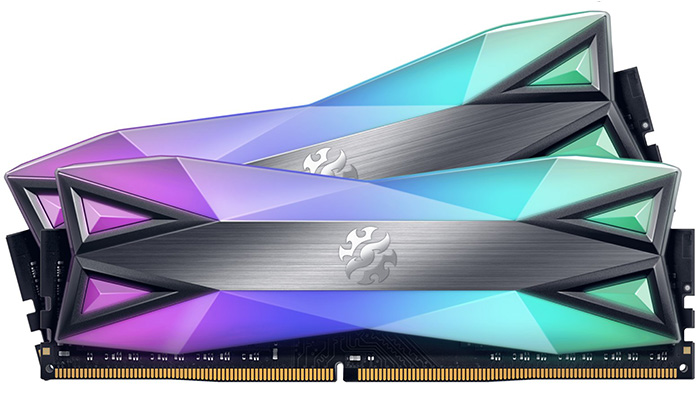 ADATA's XPG Spectrix DIMMs provide you with an alternative aesthetic that looks awesome. The contoured accents on the RGB provide a futuristic sleek look, fit for 2022 and beyond. This kit is rated up to 3200MHz at a latency of CL16. The D60G kit will be ideal for gamers and for workstations alike, with the visual flair adding a wow factor to any build.
Specs List:
Kit Capacity: 16GB
Memory Speed: 3200MHz
CAS Latency: CL16
Memory Generation: DDR4
RGB: Yes
Colour Options: Grey
Buy the XPG Spectric D60G on:
---
5. Corsair Dominator Platinum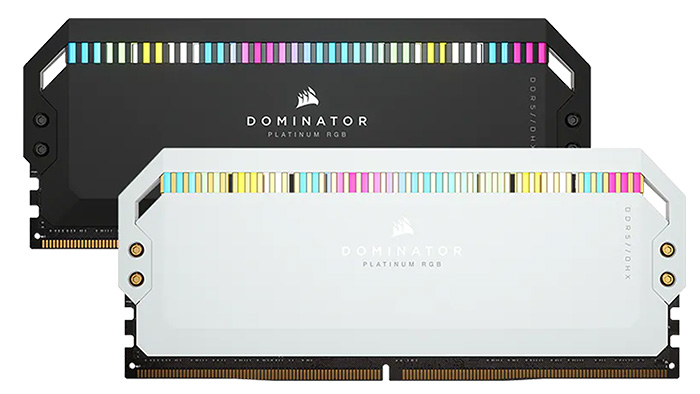 The Dominator Platinum kit is a set of memory that we've taken a look at in a full review and featured in many of build guides. This particular kit has a very unique industrial look, combined with the Capellix LED lights on the top makes for an awesome addition to any build. This DDR5 kit is also extremely fast, with a 5600MHz clock speed offering you a boost in certain applications.
Specs List:
Kit Capacity: 32GB
Memory Speed: 5600MHz
CAS Latency: CL36
Memory Generation: DDR5
RGB: Yes
Colour Options: Black/White
Buy the Dominator Platinum Kit on:
---
6. G.Skill Trident Z5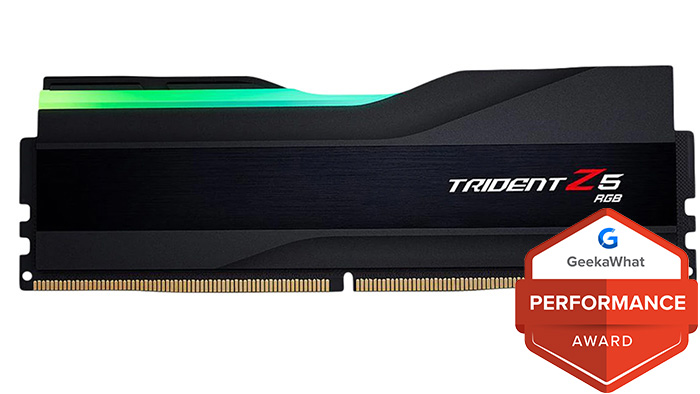 Our final pick of the day is G.Skill's Trident Z5 RGB kit. This particular kit is (to date) the fastest DDR5 DIMM set that you can buy with a CAS latency of just 28. DDR5 is still maturing, so other challengers won't be far behind. Although this kit is expensive, it is definitely worth considering for high-end builds.
Specs List:
Kit Capacity: 32GB
Memory Speed: 5600MHz
CAS Latency: CL28
Memory Generation: DDR5
RGB: Yes
Colour Options: Black/White
Buy the G.Skill Trident Z5 on:
---