Introduction
One of the penultimate steps to finalising a PC build is picking up some awesome peripherals to finish your gaming setup. One of these peripheral options is a gaming keyboard. The market is saturated with a myriad of keyboard options, each with different switch types, keycaps, form factors, and more.
These varying options can be confusing to even PC enthusiasts, let alone anyone who categories themselves as more of a rookie in the gaming space. With this in mind, we've put together a roundup of the best gaming keyboards on the market, as well as the features to look for when purchasing a mechanical, gaming keyboard.
Suggested Article: The Best Gaming Mice to Buy in 2022
What is a Gaming Keyboard?
We've covered the ins and outs of mechanical keyboards in our 'How to Choose the Right Mechanical Gaming Keyboard' article, so we'll keep this brief. Gaming keyboards are not entirely different to your standard office keyboard. The major difference is that these are geared specifically towards gaming, with a few key differentiating features.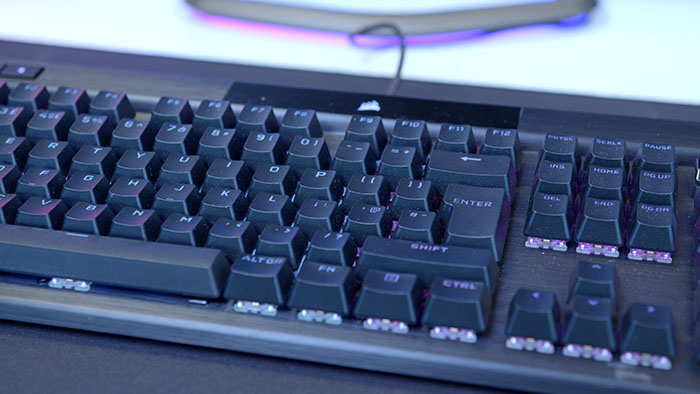 Gaming keyboards will generally utilise different switches that have targeted actuation points, designed to make your gaming experience much better. Gaming keyboards also have different keycap styles that prevent slipping, and feel better with different finger shapes. Features wise, gaming keyboards often tend to have RGB lighting included, alongside dedicated media keys. On particularly high-end keyboards you might also find USB pass through and programmable keys.
As a general rule of thumb, gaming keyboards do tend to be more expensive than a typical non-gaming keyboard, but that doesn't mean it'll cost you the world to pick one up. You can still be price conscious when picking out a gaming keyboard and not have to sacrifice a ridiculous amount of features.
Features to Look Out For
A non-gaming keyboard will have generic features that allow you to type, and potentially game if that's what you want. But the benefit of having a gaming keyboard is the plethora of features available, so we've covered some of the more important ones to look out for below.
1. Wireless or Wired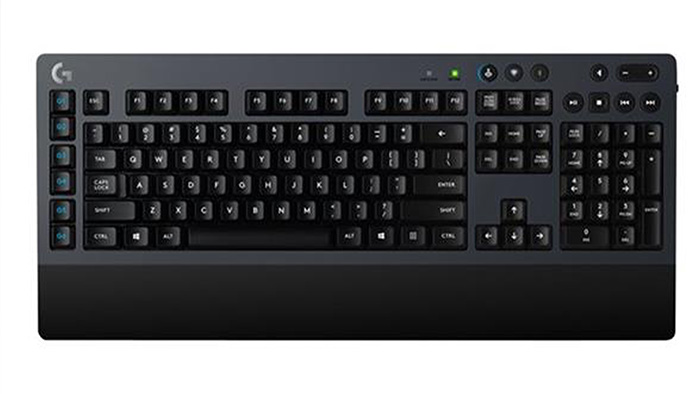 A few years ago the wireless peripherals market wasn't very popular, due on the fact that wireless technology often introduced lots of latency. Since then, the technology has vastly improved, with manufacturers such as Logitech providing great wireless options for gaming. Other strong choices in the wireless keyboard space come from Razer and Corsair who each have standout wireless options. Wireless keyboards will cost you more, but it can be appealing to high-end consumers.
2. Switch Type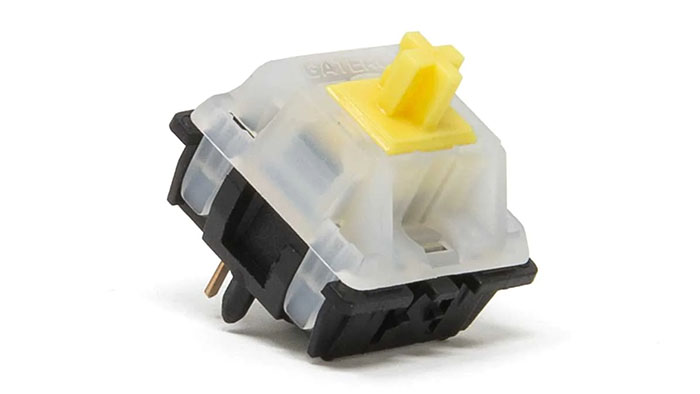 The market for keyboard switches gives consumers a myriad of options. The three main switch types are: clicky, tactile, and linear. The difference between them is the physical feedback you receive when you press the key. Clicky, as you can imagine, responds with an audible click, while tactile switches have a lighter bump sound, and linear switches have no feedback at all.
You can order a cheap demo set of switches online to see what the differences are before committing to one type.
3. Custom Keycaps
Not too dissimilar from switches, you can also get different keys for your keyboard to further enhance your gaming keyboard experience. From shape, to build quality and materials, there are lots of places for customisation here.
If you prefer a very standardised feel, like you would get with an office keyboard, an OEM keycap set or Cherry set is worth picking up. Alternatively, if you like plenty of room to place your fingers, we would recommend considering a DSA set of keycaps. We've covered keycaps in great detail in a recent article, which provides more insight on the matter.
4. RGB Lighting Options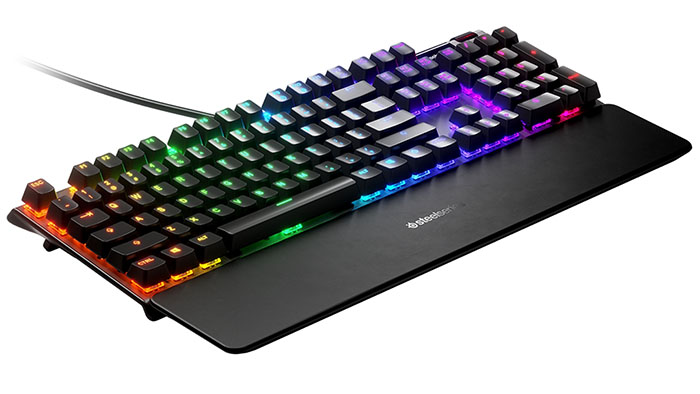 Ah, blessed RGB. We love RGB on any component, but a keyboard is certainly an area that can make your setup look that bit nicer. The amount of customisation and lighting options you have depends on the price-point of your keyboard, and what the manufacturer has decided to include. Higher-end options often have per-key RGB customisation instead of 'lighting zones'. You'll also find an array of preset RGB animation options and software to customise the keyboard further.
5. Dedicated Media Control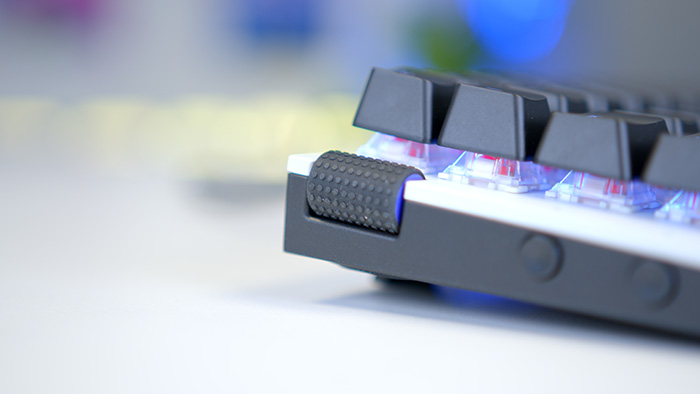 There is nothing more annoying than having to tab out of your game in order to turn up or down your tunes. Thankfully you can avoid this entirely by picking up a keyboard that has volume control, a play/pause button and skip track controls. Not only is this more convenient, it also a sign of a well-designed, though through keyboard.
These controls are typically positioned on the top-right of the keyboard, but can be anywhere as we witnessed with NZXT's Function lineup.
6. Macros and Programming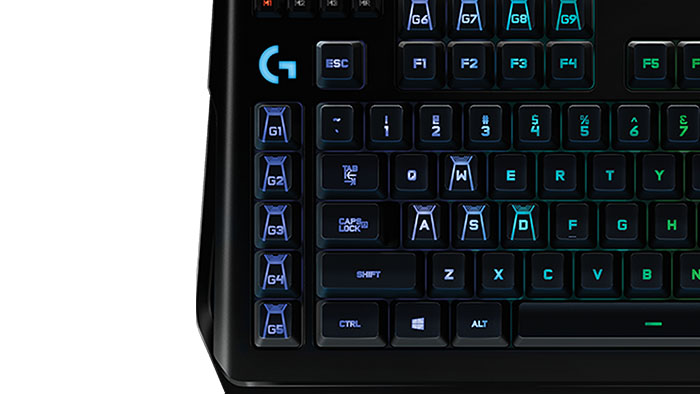 Macros and reprogrammable keys tend to be a little bit more niche, but you might fit into that category as they can be useful to have. Macro keys allow you to do certain actions either within a game, application or just on your desktop. Having these can just make your life a little bit easier especially if you use a lot of hotkeys when working or playing games. Reprogrammable keys fit into the same area, whereby manufacturers might let you change what every individual key does on your keyboard. This will differ between keyboards, but can be a nice feature if you like being able to customise your peripherals.
Top 3 Gaming Keyboard Picks
The three keyboards we've picked have been given a GeekaWhat award based on their design, features, pricing and the area of the market that they benefit most.
Best Budget Keyboard: Logitech G213 Prodigy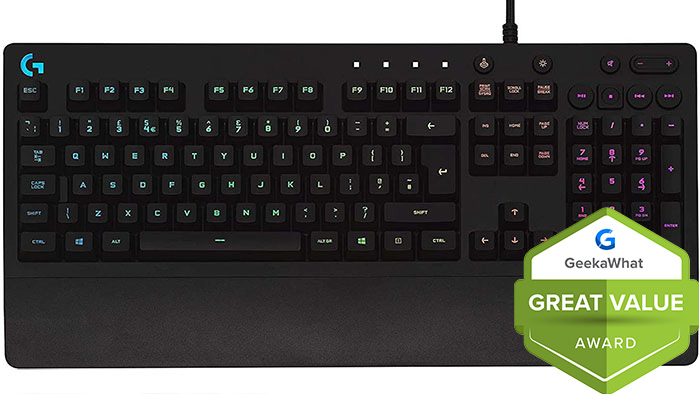 Pros
Cons
✅ Ideal for entry-level and budget builds.
✅ Five customisable RGB lighting zones brings extra flair.
✅ Dedicated media controls are a nice touch for a budget keyboard.
❌ The wrist rest can be harsh on the palm at times.
❌ Not much customisation other than RGB.
❌ 100% size is awkward for portable setups.
Check the price on:
Best High-End Keyboard: Corsair K100 RGB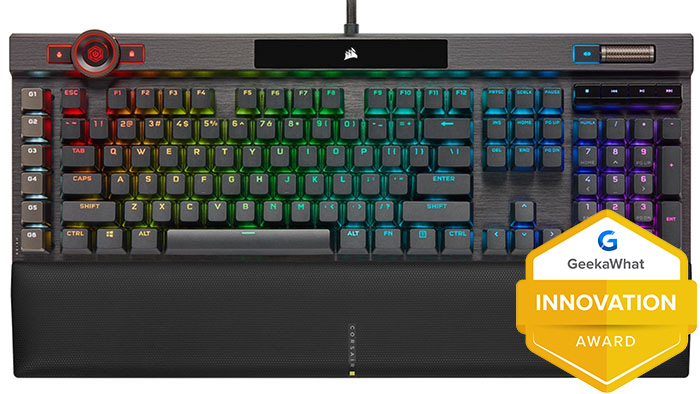 Pros
Cons
✅ Extremely sleek aesthetics and very premium feel.
✅ Corsair iCUE RGB lighting is immaculate.
✅ Corsair OPX linear switches are incredibly fast with a 0.25ms response time.
❌ Very, very expensive for an OEM keyboard.
❌ USB cable is not detachable.
❌ Not very ideal for Esports or portable setups.
Check the price on:
Best Esports Keyboard: HyperX Alloy Origins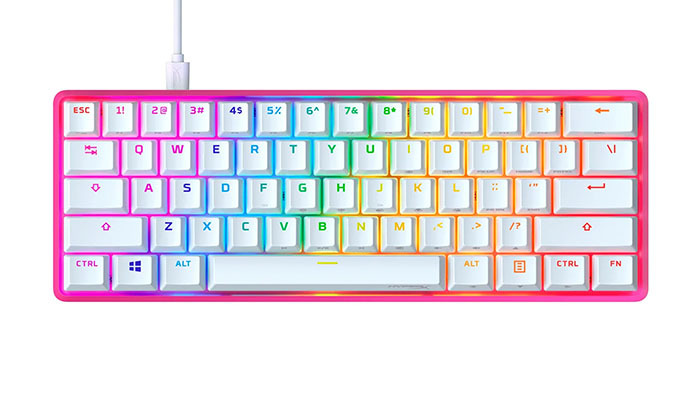 Pros
Cons
✅ 60% form factor is perfect for Esports and portable systems.
✅ HyperX mechanical switches have a low actuation force.
✅ Chassis and keycaps have a very durable design.
❌ No dedicated customisable macro keys.
❌ Only available with linear switches.
❌ Lack of function keys could be annoying to regular users.
Check the price on:
Our Recommendations
1. Logitech G213 Prodigy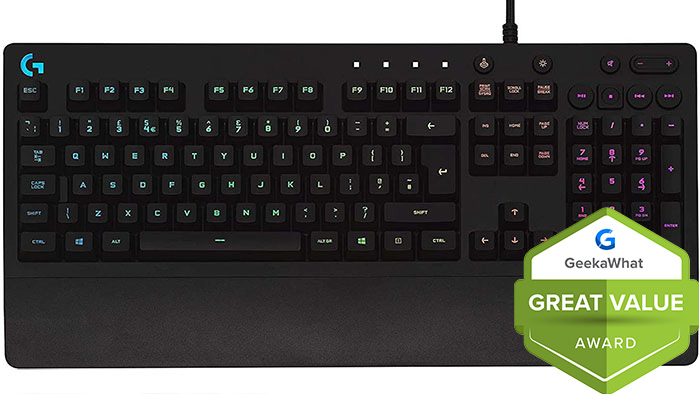 Starting off with the G213 Prodigy, this entry is a great selection for a budget build. I personally bought one of these keyboards back in the early days of my PC building journey, so its awesome to see it still holds up well today. The switches on the G213 are Logitech's tried and true membrane, providing a slight bump of resistance. The five zone RGB lighting provides some additional flair that can be synced up with other Logitech products. The dedicated media buttons are a nice touch providing some extra quality of life.
The only major downside of this option is the lack of a mechanical switch, but for the most budget of gamers it is worth considering.
Buy the Logitech G213 Prodigy on:
---
2. MSI Vigor GK50 Elite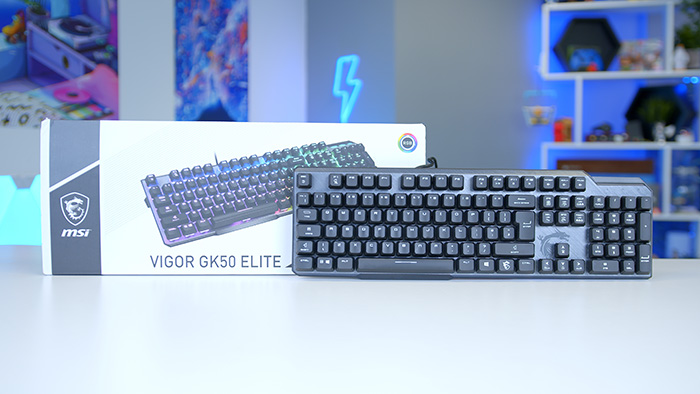 MSI's Vigor GK50 Elite is a keyboard we've taken a look at in a full review and is currently my daily driver here at the Geeka Media offices. The switches are Kailh Box Whites which provide a satisfying audible click upon actuation. The octagonal keycaps provide plenty of space for the fingers giving a great typing experience. The per-key RGB lighting is also a nice touch for those wanting some additional flair.
Buy the MSI Vigor GK50 Elite on:
---
3. HyperX Alloy Origins 60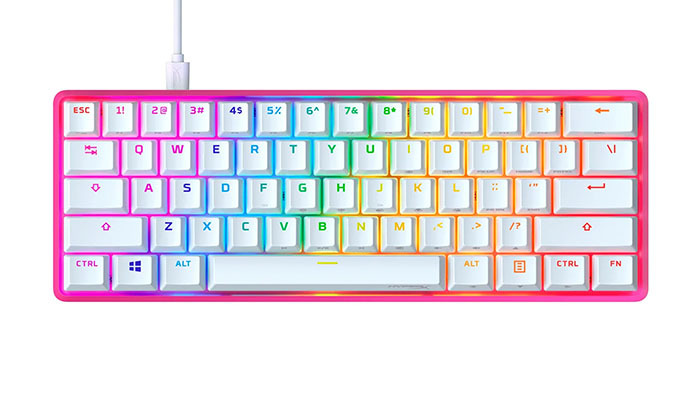 The HyperX Alloy Origins is an excellent keyboard sporting a 60% form factor, ideal for portable setups and Esports. The linear mechanical switches provide a smooth and seamless press rated for 80 million keypresses. RGB lovers will also be pleased to hear that you've got plenty of customisation using the HyperX NGENUITY software that also gives you the option to setup macros and per-key lighting effects.
Buy the HyperX Alloy Origins 60:
---
4. Razer Ornata Chroma V2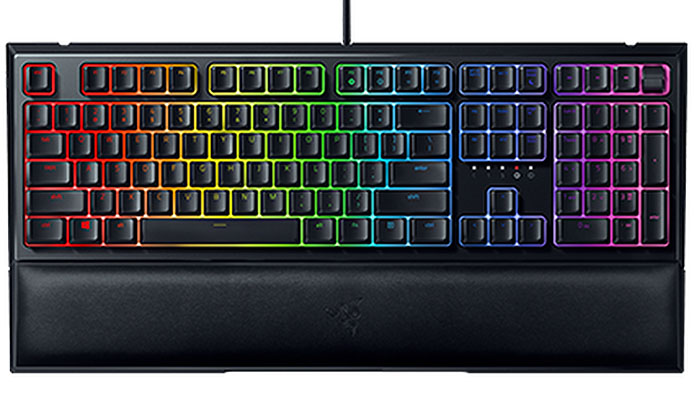 Razer's Ornata Chroma V2 is an excellent keyboard that provides a great all-round experience for both typing and gaming. The switches being used are a hybrid mecha-membrane which have the audible click from a clicky switch, but require much less actuation force overall. The included leather wrist rest provides extra comfort minimising any strain over long periods of time. This keyboard is also a chroma variant allowing you to add as much RGB as you see fit.
Buy the Razer Ornata Chroma V2 on:
---
5. Corsair K70 Pro Mini Wireless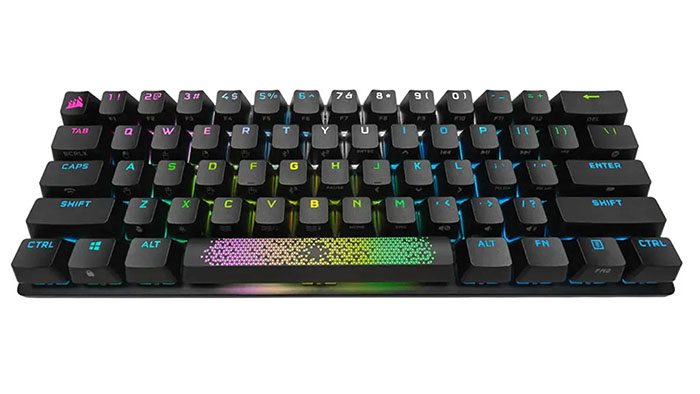 Corsair's K70 Pro Mini Wireless is a very recent and unique addition to the keyboard market. The coolest point about this keyboard is that it features hot-swappable switches. This means that if the switches aren't to your liking, you can swap them out with some other Cherry MX variation that you prefer. This is one of the few keyboards to be offering this to consumers in an OEM format along with NZXT's Function Mini TKL. It's great to see manufacturers providing more consumer focused customisation, bringing enthusiast custom keyboard features to the mass-market.
Buy the Corsair K70 Pro Mini Wireless on:
---
6. Corsair K100 RGB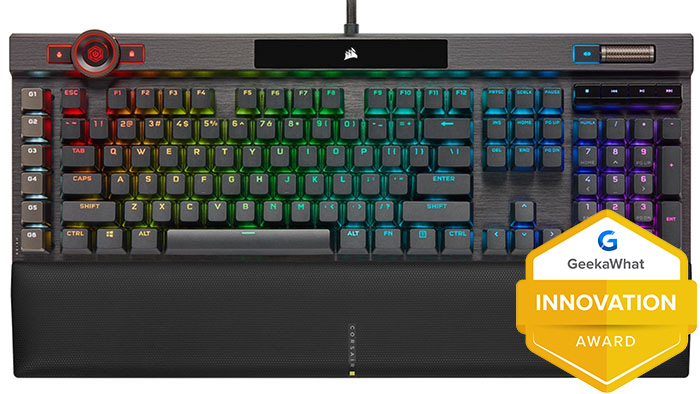 This Corsair K100 RGB is the crème de la crème when it comes to gaming keyboards, boasting pretty much all of the features you can imagine. The linear Corsair OPX switches boast a 0.25ms response time, making gaming responsiveness incredibly fast. Towards the left side you've got six dedicated macro keys for some extra customisation, too. At the top of the keyboard there is also an iCUE control wheel that allows you to switch applications, zoom in, change your brightness and so much more. Although this keyboard is rather expensive, you definitely get what you pay for here at the top of the market.
Buy the Corsair K100 RGB on:
---