Introduction
Nvidia has finally released their brand new RTX 4090 and it is, in one word, utterly glorious (OK… that was two words). Equipped with the latest generation of CUDA and RT cores, this absolute beast of a GPU is set to tackle the most intense workloads without breaking a sweat. However, as we see the market become oversaturated with new components all the time, it can be difficult for your average consumer to keep up with the generational upgrades.
This begs the question, is the RTX 4090 performance uplift worth it given the price of this performance behemoth? Or should we instead stick to our guns with the slightly better priced previous-gen RTX 3090Ti? Today we'll be answer both of these questions with a good ol' fashioned GeekaWhat versus battle. We'll be looking at the differences between each card and some all-important benchmarks to see how each card performs.
Suggested Article: Nvidia GeForce RTX 4090 Review (Founders Edition Benchmarks) & MSI Suprim X RTX 3090Ti Review – The Best GPU Ever?
GPU Versus Battle
Nvidia GeForce RTX 4090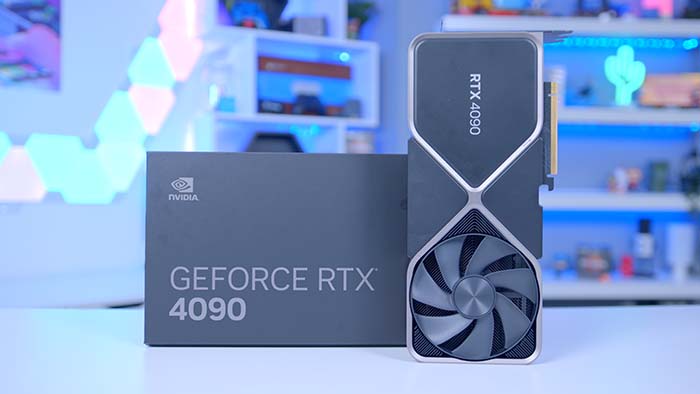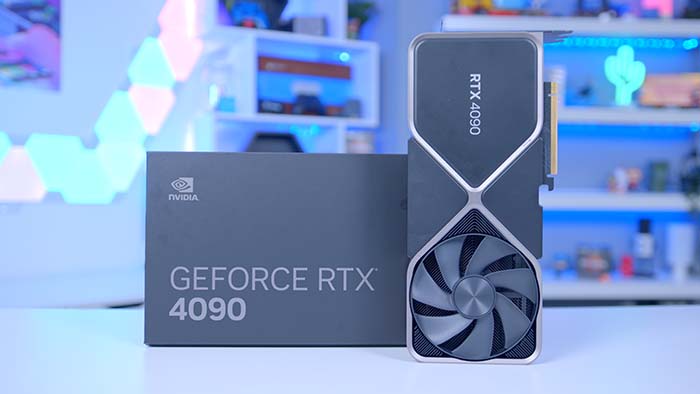 | | |
| --- | --- |
| Memory Capacity | 24GB GDDR6X |
| Boost Clock Speed | 2.52GHz |
| RT Cores | 191 |
| CUDA Cores | 16384 |
| TDP | 450W |
| Release Date | October 2022 |
| Price | Check Price on Amazon |
Nvidia RTX 4090 Specs
Nvidia's brand new RTX 4090 is the first card to release within the RTX 4000 range, landing in October of 2022. This flagship GPU sports some very impressive specs and as such you can expect a significant performance uplift. The 16384 efficient CUDA cores massively improve parallel processing while also reducing the wattage requirement hence this new card sitting on par with the 3090Ti in terms of wattage. The 191 RT cores also drastically improve Ray-Tracing giving developers the tools to globally illuminate their games, increasing the realism and visual fidelity.
Looking at performance (which we've covered in more detail below), the 4090 is stellar in pretty much anything you throw at it. If you're looking to max out your in-game settings and bump up the resolution to 4K with Ray Tracing enabled, this is definitely the card to do it with. With all of the new technology that comes with the new generation of RTX 4000 cards such as shader execution reordering, or DLSS 3 with frame generation, it's not a GPU short of tricks up its sleeve. Combined with the dual 8th Gen AV1 encoders, workstation applications that involve rendering or video editing become a breeze to run.
If we move onto pricing, this is where things start to get complicated. The RTX 4090 is a high-end card, and therefore it warrants a high-end price tag. But the $1599 assigned to the 4090 seems a little steep, even for me as an enthusiast. This is the kind of price we would expect from a potential 4090Ti, and tops anything the mainstream GPU market has ever seen. Regardless, a price this high does render theRTX 4090 somewhat inaccessible to your average consumer, but arguably based on the performance here, you are getting what you pay for.
Buy the Nvidia GeForce RTX 4090 on:
Nvidia GeForce RTX 3090Ti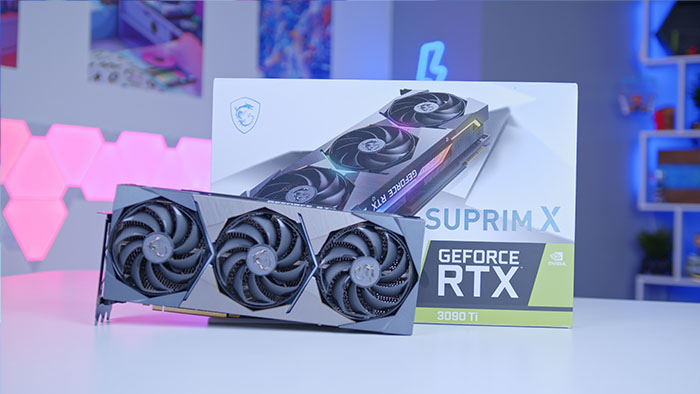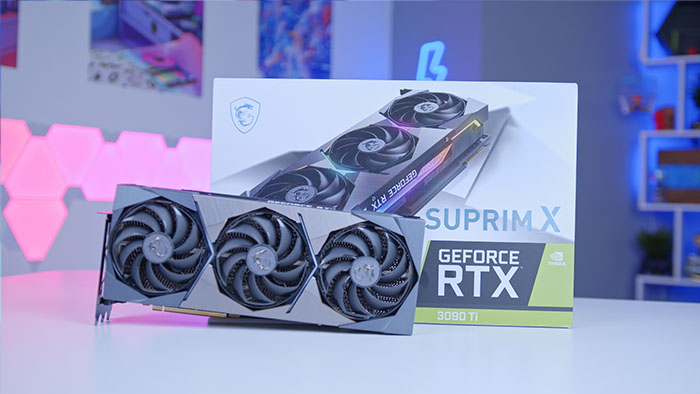 | | |
| --- | --- |
| Memory Capacity | 24GB GDDR6X |
| Boost Clock Speed | 1.86GHz |
| RT Cores | 84 |
| CUDA Cores | 10752 |
| TDP | 450W |
| Release Date | March 2022 |
| Price | Check Price on Amazon |
Nvidia RTX 3090Ti Specs
The 3090Ti was one of the final cards to release within the RTX 3000 range, back in March of 2022. This card blew every other available GPU out of the water both in terms of specs and performance. Nearly 11000 CUDA cores, 84 RT cores (which was unheard of at the time), and a very high wattage to go along with it. The 3090Ti impressed consumers across the globe with its insane performance. A pricey card, but one that sold very well (and continues to do so at the time of writing).
Speaking of performance, the RTX 3090Ti shares a similar story to the RTX 4090 and doesn't normally struggle with any title. Despite the larger performance overhead that comes with rendering and maxing out your in-game settings, the 3090Ti is able to overcome this with its huge processing power. 4K with Ray-Tracing doesn't pose much of a problem to the 3090Ti, but due to the older architecture, RTX 3000 users won't be able to make use of the awesome DLSS 3rd generation functionality, or some of the other new integrations that comes with this new generation of graphics cards.
When we look at the price tag, the RTX 3090Ti is priced much higher in terms of MSRP when compared to the RTX 4090. The RTX 3090Ti sat at around $2000 upon release, but many of these cards have fallen to a much more reasonable price over time, making it somewhat more affordable than the new card.
Buy the MSI Suprim X RTX 3090Ti on:
Our Testing Methodology
In order to test a variety of components our we follow a rigorous testing methodology that follows two very clear steps. The first step is ensuring that our benchmarks are repeatable and fair. When we play a game or run an application we always show the settings beforehand so that the benchmark can be repeated by a third party. These runs are recorded, and then uploaded to our benchmarking channel linked below We also ensure that any components are matched up with similar performing parts so that bottlenecking is reduced and that each component can perform optimally without any hindrances. This means we'll never pair up a top-end GPU with a budget or mid-range GPU, or visa versa.
The second part of our methodology is sticking to our editorial promise. We receive a huge range of components direct from brands and retailers, but these parties never have a say as to our opinions, thoughts or testing on any product.
Benchmarking Performance
Any components we receive or buy are put through rigorous testing to ensure that they work in line with the performance advertised. You can find all of our benchmarking runs on our YouTube channel Benched, where you'll be able to find a plethora of gameplay using the latest and greatest components in popular triple A and Esports games.
Fortnite
For our first title, we tested Fortnite at 1080P Competitive settings. These settings ensure that the game is able run as well as it possibly can to reduce any dropped frames. Looking at our benchmarking graph, you can immediately see that the 4090 up top with an impressive 337FPS on average. By contrast, the 3090Ti followed close behind at 291 frames per second during our gameplay. This demonstrates the sheer capability of these GPUs at 1080P, and other 1080P gameplay is likely to follow suit. The reason the difference here is relatively tight is due to CPU bottlenecking – with this much raw GPU power 1080p puts lots of the performance onus onto the processor and game optimisation.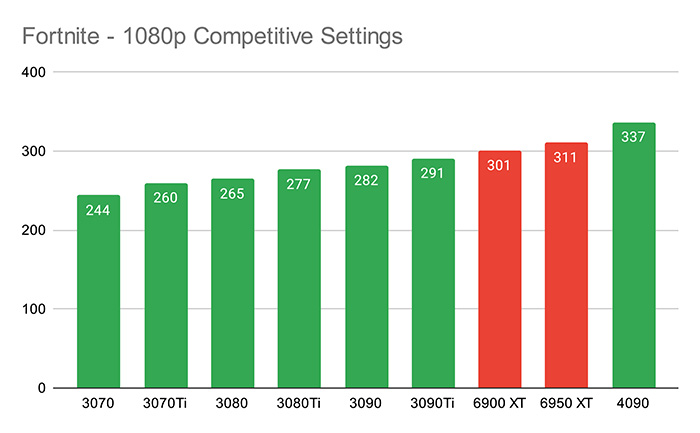 Apex Legends
In Apex Legends at 4K, the 3090Ti held its ground with a respectable 140FPS, but the 4090 soared to an insane 190FPS on average during our gameplay. Both of these GPUs performed incredibly well, especially at 4K, but it was unfortunate not to see the RTX 3090Ti hit the sweet spot of 144FPS. Apex benefits from a higher refresh rate display that reduces stuttering due to the fast-paced nature of this title.
Battlefield 2042
In Battlefield 2042 (which is a very demanding title at 4K), the 3090Ti was able to reach very acceptable performance levels. The 3090Ti sat just shy of the 100FPS mark, with the RTX 4090 skyrocketing up to a super smooth 144FPS. Here, the raw power of the RTX 4090 brings itself to the fore, providing incredible results at 4K.
Valorant
And in our final game, Valorant, both the RTX 3090Ti and RTX 4090 reached absolutely insane average framerates. The RTX 3090Ti was able to hit around 433FPS on average, which is more than enough frames for anyone. The 4090 cranks things up to 11, and is the first GPU we've ever tested that can hold an average of more than 500FPS. Does anyone actually need 500FPS? Certainly not. Is it impressive. Abso-flipping-lutely!
Conclusion
We asked two principal questions at the start of this GPU comparison. Is the performance uplift of the 4090 worth the price increase? Or is the current generation's 3090Ti a better bet in terms of value for money? The answer isn't a simple one. If we compare the 3090Ti and 4090 side by side for performance metrics, the 4090 comes out on top in every single metric.
However, does the performance upgrade warrant a crazy price? Yes and no. You might argue that the significant boost is worth the price, but we're seeing a major bump in the price tag compared to last generation. And unfortunately, the RTX 3090Ti is pretty much in the same boat. Either of these cards are excellent performance wise, but it all unfortunately comes down to cost. If you've got the money to sink into a super high-end system, then the 4090 will be the clear best bet for those looking to max out everything.