Introduction
With the release of Nvidia's latest GeForce RTX 4090 GPU we've been working day and night to test all of the brand new cards to see how they perform. When testing any new GPU, the most exciting part is comparing it against the competition, namely current GPUs available from Nvidia's main competitor, AMD.
With the PC gaming and building market heating up as new component launches saturate the market, we're curious to see how the new RTX 4090 compares against its Team Red counterpart, the AMD Radeon RX 6950XT. Is the behemoth RTX 4090 worth upgrading to, or should you instead find a good deal on an RX 6950XT? We'll be answering both of these questions in a good ol' GeekaWhat versus battle!
Suggest Article: Nvidia GeForce RTX 4090 Review (Founders Edition Benchmarks)
Versus Battle
Nvidia GeForce RTX 4090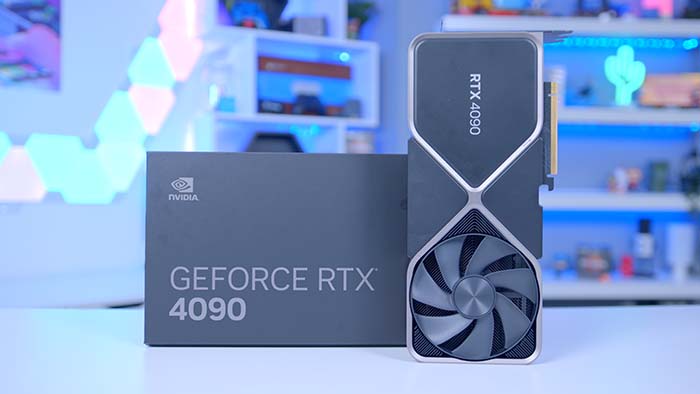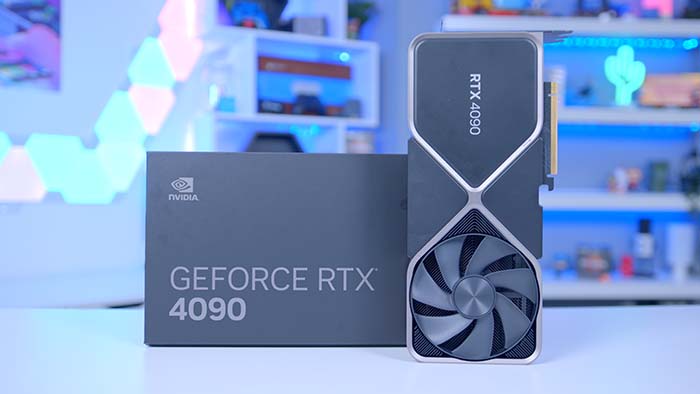 | | |
| --- | --- |
| Memory Capacity | 24GB GDDR6X |
| Boost Clock Speed | 2520MHz |
| RT Cores | 191 |
| CUDA Cores | 16384 |
| TDP | 450W |
| Release Date | October 2022 |
| Price | Check Price on Amazon |
Nvidia RTX 4090 Specs
The RTX 4090 is the first card releasing within Nvidia's new range, and is the flagship card for the RTX 4000 series. In many ways, this GPU sets the precedent for the kind of performance which can expected from the ADA Lovelace architecture moving forward. Nvidia have crammed this massive card with powerful hardware, offering better efficiency RT and Tensor cores, while drastically increasing the number of included CUDA cores. You've also got access to a 2.52GHz boost clock speed along with 24GB of GDDR6X memory.
Moving onto performance, the 4090 offers up excellent metrics in pretty much everything you throw it at. 4K with Ray-Tracing and DLSS enabled? No problem! 1080P and 1440P resolutions? Easy peasy (arguably, too easy peasy for a GPU like this). This card is an absolute powerhouse of performance and offers high frame rates across the board. Games like Cyberpunk 2077 and F1 2022 which are quite graphically intense, pose no issue to the GeForce RTX 4090, and framerates in these titles are excellent. The 4090 is also an all-rounder when it comes to workstation applications especially in when it comes to video editing due to the dual AV1 8th-Gen encoders which make using applications like Davinci Resolve a relative breeze.
Looking at market positioning and prices it is fairly obvious that this card sits towards the top-end of the market. This is definitely an enthusiast card, and for this reason is also has an enthusiast price tag attached to it. For the eye watering MSRP of over $1500, they aren't exactly giving it away. In fact, we'd go as far to suggest that this is a totally exorbitant price for your average consumer, making this a card truly for the enthusiasts.
Buy the Nvidia RTX 4090 on:
AMD Radeon RX 6950XT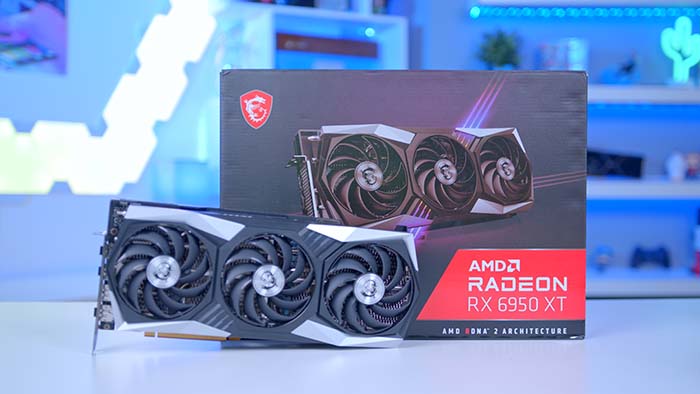 | | |
| --- | --- |
| Memory Capacity | 16GB GDDR6 |
| Boost Clock Speed | 2310MHz |
| Ray Accelerators | 80 |
| Stream Processors | 5120 |
| TBP | 335W |
| Release Date | May 2022 |
| Price | Check Price on Amazon |
AMD Radeon RX 6950XT Specs
AMD's RX 6000 lineup of GPUs has been out for a significant amount of time, but back in May of 2022, AMD released a series of 'RX 6#50' SKUs that offered performance improvements upon the original cards. These new cards were able to outperform their Nvidia counterparts in certain situations, but perhaps fell a little short of expectations at launch. The standout card from this range was the RX 6950XT, which held up will in a number of titles against it's Nvidia counterparts. This, then, could make the Radeon RX 6950XT a decent bet against the RTX 4090, bringing with it some cost savings?
The RX 6950XT is most at home when gaming at 4K, 1440P and 1080P Ulta settings no hassle for the GPU. Certain titles certainly suit this GPU better than others, with games like Fortnite certainly performing favourably on AMD GPUs.
With regards to market positioning, the 6950XT shares a similar story to the RTX 4090 and is geared more towards the enthusiast end. We wouldn't necessarily recommend someone to buy this card if you're building a mid-range system, but for those looking to maximise their performance, the 6950XT will be a good choice. The price looks to be somewhat better than the RTX 4090, but not by much. Sitting over the $1200 mark, this card does offer decent performance, but the pricing is difficult to swallow when there are alternative options with better performance.
Buy the MSI Gaming X RX 6950XT on:
Our Testing Methodology
In order to test components, we follow a rigorous and repeatable testing methodology that provides real-life context as to how each part performs within a game or application. All of our benchmarks can be conducted by an external party to achieve similar results, to ensure that our metrics are fair. Manufactures, brands and retailers can never interfere with our testing, and our fair results are all part of our editorial promise to our readers.
Benchmarking Performance
All of the benchmarking runs that we conduct to test a variety of GPUs and CPUs feature on our YouTube channel – 'Benched by GeekaWhat!'. This helps us to be more transparent, and our readers and viewers to easily replicate our testing, or achieve the frame rates we do.
Valorant
First off, in the hit Esports title Valorant, our frames with both of these GPUs absolutely skyrocketed. The 6950XT was able to reach a more than reasonable 455FPS which is insanely high at 4K settings. The 4090 took things a step further, consistently maintaining over the 500FPS mark, with 502 frames per second on average. The 6950XT and the 4090 definitely impressed us here, and at frames this high you won't really be able to see the difference, but its still awesome to see numbers this high.
Fortnite
In Fortnite we ran our benchmark at 1080P Competitive settings, which is extremely popular giving users the ability to easily get wins in the game without dropping frames or having lag issues. Here, the RTX 4090 once again outperformed the RX 6950XT. We'd argue that the RTX 4090 was likely CPU bottlenecked in this scenario, despite our testing using the latest AMD Ryzen 9 7900X processor.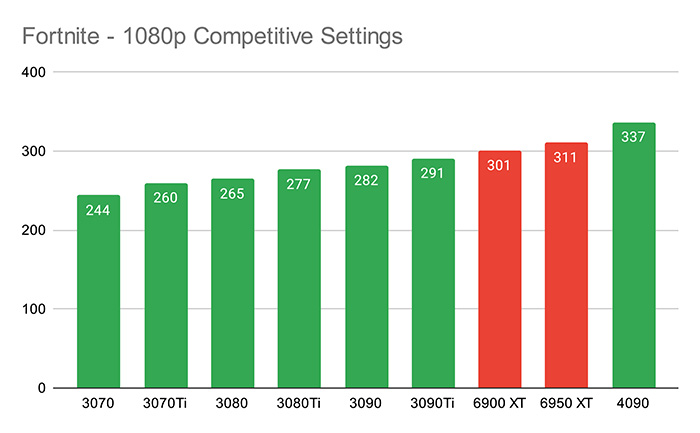 Battlefield 2042
Battlefield 2042 is a rather demanding title, especially at 4K. For this reason, we wanted to see how the RTX 4090 performed with DLSS set to performance, versus AMD's top-end card. We weren't exactly surprised with how the RTX 4090 performed, but we were definitely impressed. The 4090 was able to jump up to 144 frames on average, which is more than enough to give us a buttery smooth experience with a high refresh rate monitor. The 6950XT didn't perform nearly as well, only maintaining around 89 frames on average.
Apex Legends
In our final benchmarking title, Apex Legends, both the 4090 and 6950XT came out on top compared to all of our other top-end GPUs. The 6950XT was able to maintain an average of 157FPS, which is perfectly suitable providing enough frames to reach a reasonable refresh rate. The RTX 4090 jumped up to 190 frames per second, showing once again just how strong Nvidia's GPU king stacks up.
You can find full RTX 4090 benchmarks in our detailed review.
Conclusion
Looping back around to two of the questions we asked at the start. Is the RTX 4090 worth the upgrade? Or should we stick to a tried and true from Team Red – the RX 6950XT? The answer is somewhat complicated to answer. If we look at the benchmarks, the RTX 4090 comes out on top in pretty much every instance. And in all of these gaming runs, the RTX 4090 gave a very significant performance boost. We're not just talking 10FPS, many games saw an uplift of 30-60 frames, which at maxed out settings is a huge amount especially if the game is so-far unoptimised for the RTX 4090, or lacking support for DLSS 3.0 which will surely follow in many cases.
However, although this performance improvement is definitely as advertised, the price is somewhat difficult to swallow. The RTX 4090 has an MSRP of $1599 which is the average cost of a decent mid-range system nowadays. Regardless, it seems that the 6950XT might be a better option if you're looking to play games at 4K maxed out settings, but don't want to pay the additional cost for a next-gen upgrade. By contrast, if you can justify the price tag of the 4090 and have some other high-end components in mind to pair with it, you definitely won't be disappointed.