Introduction
Nvidia seems to be in the habit of launching rather controversial products as of late, and they're first to the fore in 2023 with the RTX 4070Ti. This mid-range SKU was previously going to be released in November but with a different name tag (the RTX 4080 12GB). But after plenty of controversy, Nvidia decided to backtrack and release this card at a later date.
RTX 4000 cards have definitely impressed in terms of performance, but the general consensus shows consumers aren't particularly happy with the pricing. The RTX 4080 and 4070Ti appear to be relatively controversial to some degree, but we won't let that dictate our final reservations. In this GPU Versus Battle, we'll be comparing both of these GPUs side by side to see how they perform, and the value on offer based on the price-to-performance metrics.
Suggested Article: ASUS ROG STRIX Gaming GeForce RTX 4070Ti Review
Versus Battle
Nvidia GeForce RTX 4070Ti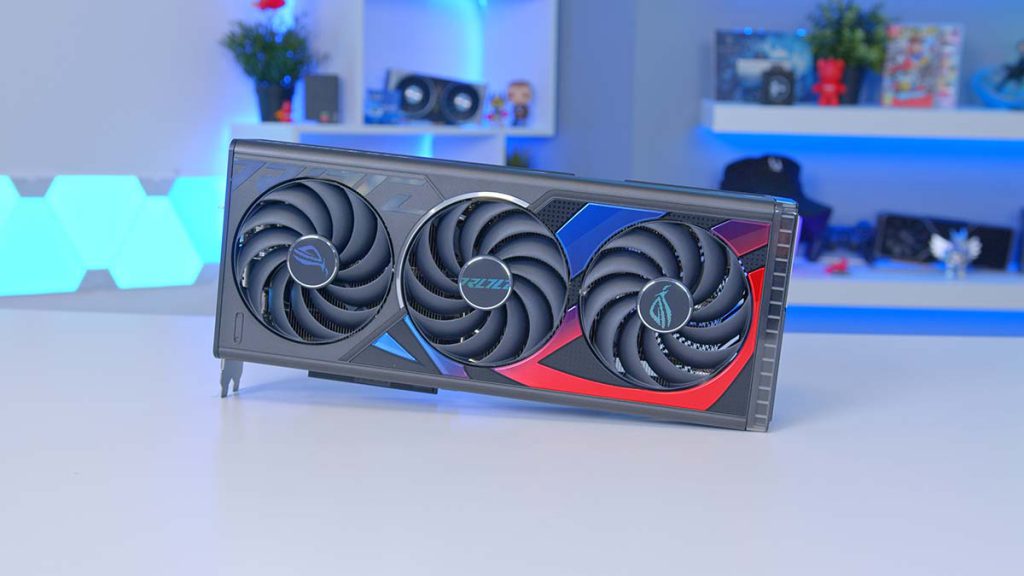 | | |
| --- | --- |
| Memory Capacity | 12GB GDDR6X |
| Boost Clock Speed | 2.7GHz |
| RT Cores | N/A |
| CUDA Cores | 7680 |
| TDP | 290W |
| Release Date | January 2023 |
| Price | Check Price on Amazon |
Nvidia RTX 4070Ti Specs
The announcement of the RTX 4070Ti was somewhat expected, as most consumers assumed Nvidia would just rebrand the 4080 12GB card to something more fitting. We're happy that Nvidia have given this card a more appropriate name, but the biggest question is whether the price matches the SKU. Specs wise, the 4070Ti isn't extremely far away from the RTX 4080. There are about 2000 less CUDA cores, and less RT cores, but the boost clock speed is quite high making this GPU more ideal for gaming.
Performance wise, the RTX 4070Ti is pretty strong in 4K. Nvidia have positioned this card in between the 3090Ti and 4080, which is where we expected it to sit. This means you're getting performance relatively close to the 3090Ti without any extra variables such as Ray-Tracing or DLSS. Speaking of which, Ray-Tracing does impose a significant amount of overhead on the 4070Ti, hence there being some performance dips when this is enabled. You can lessen the overhead by enabling DLSS, but this will reduce graphical fidelity to some extent due to the upscaling that comes with this technology. Overall, the performance of the RTX 4070Ti definitely holds up well compared to other options on the market, but the decision maker for most consumers will depend on pricing.
With an official announcement of the the RTX 4070Ti at CES, we've been given a rather hefty price tag of $799, which is a bit too high for us. Nvidia might decide to be more competitive and offer a slightly more reasonable price in time, but there isn't anything to suggest they've had a change of heart. For that reason, it is difficult for us to recommend picking up this GPU. However, if Nvidia price the 4070Ti appropriately (around the $600-$700 mark), then it is definitely a worthwhile purchase. If you're desperate to pick up an RTX 4000 series card, we'd recommend consumers wait for a potential price drop later down the line.
Buy the Nvidia GeForce RTX 4070Ti on:
Nvidia GeForce RTX 4080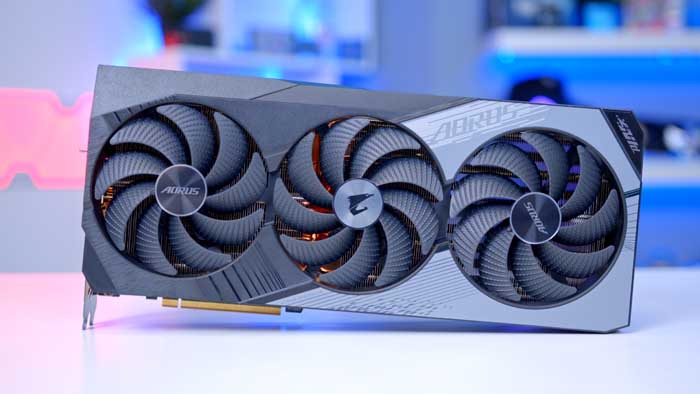 | | |
| --- | --- |
| Memory Capacity | 16GB GDDR6X |
| Boost Clock Speed | 2.51GHz |
| RT Cores | 76 |
| CUDA Cores | 9728 |
| TDP | 320W |
| Release Date | November 2022 |
| Price | Check Price on Amazon |
Nvidia RTX 4080 Specs
Much like it's rebranded younger sibling, the RTX 4080 is an equally controversial graphics card. Back during the launch in November, Nvidia were met with a significant amount of backlash due to the exorbitant price tag of this card. To add more fuel to the fire, this card seems all the more redundant after AMD's hard-hitting launch of the Radeon RX 7900XTX, which comes in at a much lower price point than the RTX 4080. Overall, it seems that Nvidia's RTX 4080 has definitely landed itself in hot water.
But where does it sit in terms of performance? Well, despite the pricing issue, the RTX 4080 is actually a great card. 4K poses no problem to the 4080, and with DLSS enabled, framerates can soar even further. Ray-Tracing is also pretty good as well, with the 4080 sitting just slightly below the RTX 4090 when this setting is enabled. The RTX 4080 is also great as a workstation graphics card, significantly cutting down render or export times in a number of applications. Overall, the RTX 4080 is pretty good in its performance metrics and this card seems to be a winner if you're looking at the raw numbers. But much like the RTX 4070Ti, the key factor for most people in purchasing this card will be where the price lands, and unfortunately the 4080 shares a similar situation to the 4070Ti.
The RTX 4080 is one of the most expensive cards on the market right now, and the AIB options fail to make this better. At over $1200, this card is out of reach for the majority of consumers, and unfortunately the price doesn't seem to be dropping anytime soon. The RTX 4080 offers pretty reasonable performance metrics, but the price of this GPU hurts to some extent, especially when you consider the original price of the RTX 3080. We may see some improvements to the price over time, but Nvidia seem to be relatively steadfast in the pricing of this graphics card.
Buy the Nvidia GeForce RTX 4080 on:
Our Testing Methodology
As per all of our articles and video content, we strive to create a fair and repeatable testing methodology that provides context on how components perform. In order to achieve this, we benchmark products using triple A and Esports titles in systems that use similarly matched components. So we'll pair up high-end parts with other high-end components, and vice versa for budget systems. This is done to minimise any bottlenecks that could hinder our results and to show transparency by providing the settings that we've used to achieve a certain level of performance.
The second part of our methodology is sticking to our editorial promise which can be found in the 'About Us' section on our website. We will always remain impartial and honest in our opinions, and any review or article will only receive edits from our in-house team and is not subject to external review by brands or manufacturers.
Benchmarking Performance
As per all of our GPU and CPU Versus articles, all of the graphs that we've put together below are compiled from the data we get during gaming benchmark runs. You can find all of the full benchmarking runs including the settings we used on our YouTube channel 'Benched'. There you'll find a variety of benchmarks in popular gaming titles testing out the latest components.
Battlefield 2042
For our first game, we decided to test out Battlefield 2042 at 4K high settings. The 4070Ti offered a reasonable framerate here, capping out at 94 frames on average, which is more than enough to enjoy smooth gameplay with minimal drops. The RTX 4080 offered about 18 frames more in comparison, surpassing the 110FPS mark. You won't really be able to notice the difference in these framerates side by side, but the RTX 4080 is obviously the preferred choice if you're trying to maximise performance. Regardless, both of these graphics cards performed very well during this run.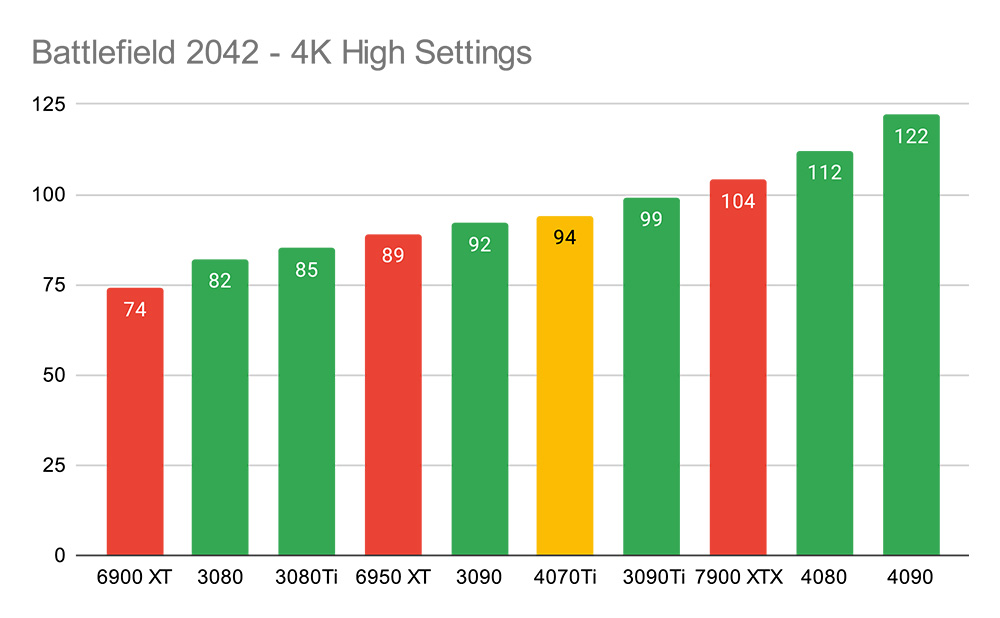 Apex Legends
In Apex Legends, both the 4070Ti and 4080 offered relatively similar performance. Apex is a well optimised title, allowing lower-end graphics cards to maintain a high FPS, even at 4K. In this title, we were able to hit the 144Hz sweet spot with both graphics cards, which is ideal as this is a relatively fast-paced title that requires a high refresh rate.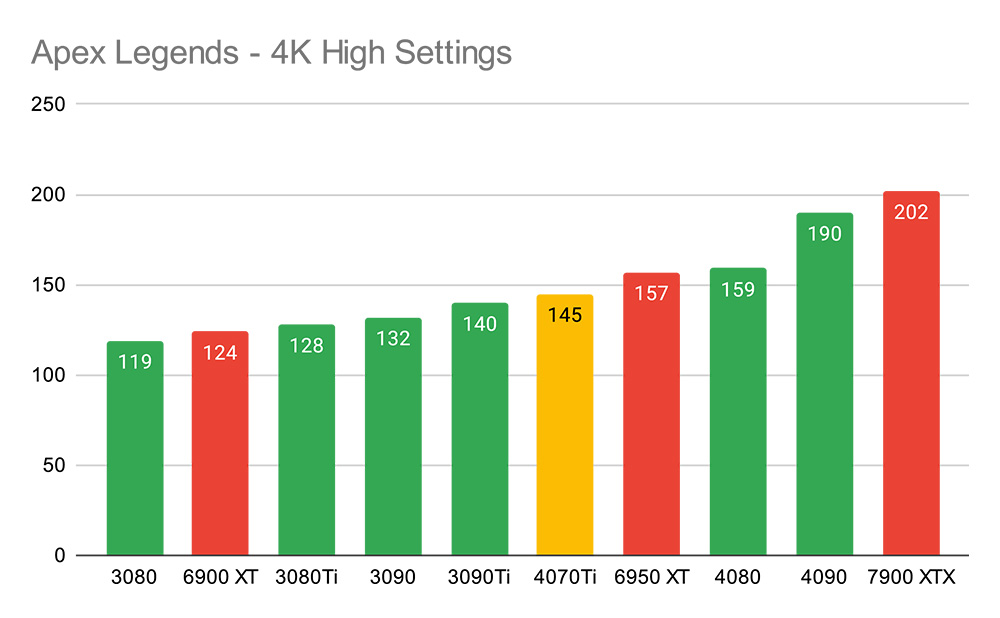 Valorant
Valorant isn't a particularly good test for performance as the game isn't demanding at all. But we can see where performance lies for both of these cards using this title. In Valorant, the RTX 4070Ti and 4080 offered very similar performance, with only a 7FPS difference between them. Valorant is an Esports title that needs a high framerate to ensure you can get kills in critical moments.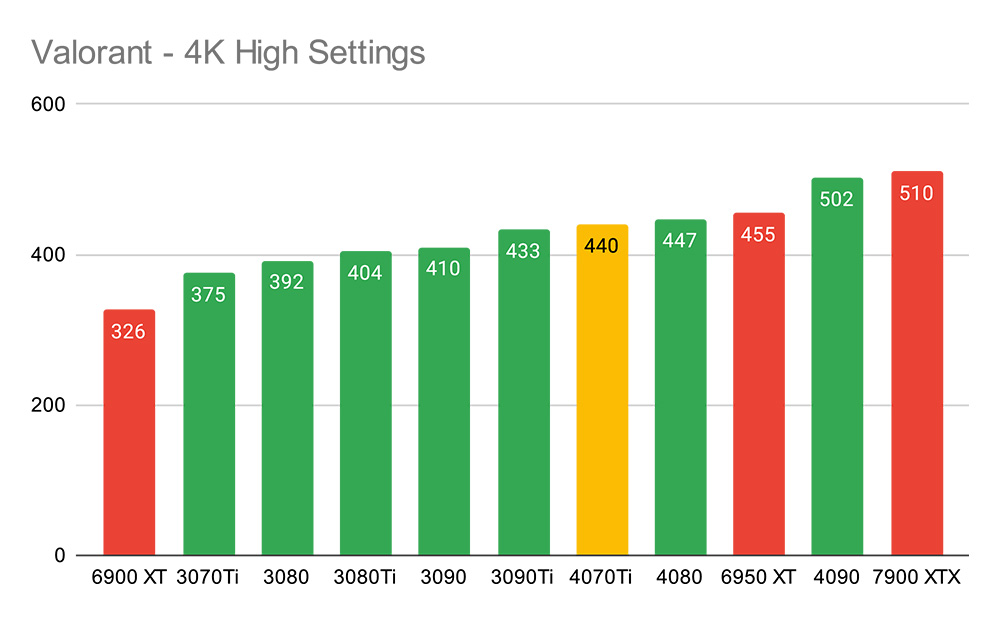 Fortnite
In Fortnite at 1080P, we saw framerates soar with both of these graphics cards. The 4070Ti saw just below the 300FPS mark at 295 on average, and the RTX 4080 offered up about 10 frames extra. Realistically, you won't be playing most games at 1080P with either of these graphics cards, but you can expect high framerates at Competitive settings.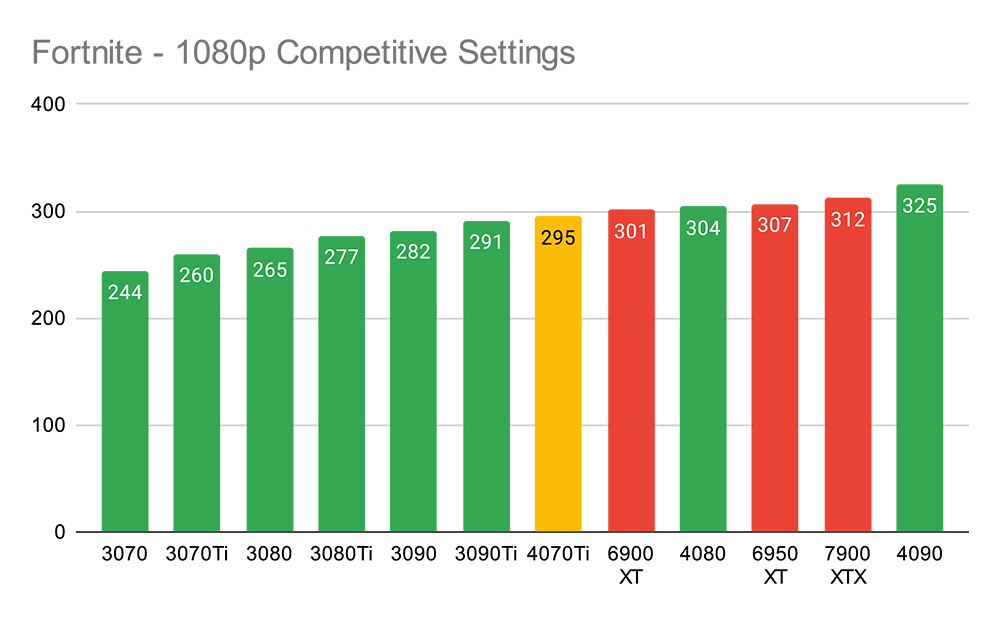 Conclusions
So which of these is better when it comes to performance and value? If we look at raw numbers, the RTX 4080 comes out on top by offering better framerates in every title that we've tested these cards in. However, the RTX 4070Ti is not far behind at all. In the majority of the titles that we tested these GPUs in, the 4070Ti was only 5-10% weaker than the RTX 4080 at a 4K resolution.
If we look at Ray-Tracing, the situation does shift in the favour of the RTX 4080, but based on the rather hefty price tag of the RTX 4070Ti, the cost increase isn't entirely worth it. It seems that the 4070Ti and 4080 offer somewhat close performance overall, which means that either card is a good bet for 4K games, but the key decider for most consumers will ultimately be price. Nvidia have set the price of the RTX 4070Ti quite high, but it is a better alternative than the RTX 4080 if you're dead-set on picking up either one of these cards.