Introduction
After a relaunch of the controversial market entrant, Nvidia have finally decided to launch their new RTX 4070Ti. This card was previously in plenty of hot water after Nvidia decided to create a 4080 with a smaller GPU die, but now we're seeing the fruits of a more popularised rebrand, and fingers crossed this bodes well for Nvidia.
Despite the controversy, we're putting the performance of the RTX 4070Ti to the test in typical GeekaWhat fashion with one of our GPU Versus articles. We'll be seeing how the 4070Ti compares to one of AMD's latest and more popular graphics cards, the Radeon RX 7900XTX. We're delving into the specs, performance, and pricing of each of these cards with some benchmarks to see which card is better.
Suggested Article: ASUS ROG STRIX Gaming GeForce RTX 4070Ti Review
Versus Battle
Nvidia GeForce RTX 4070Ti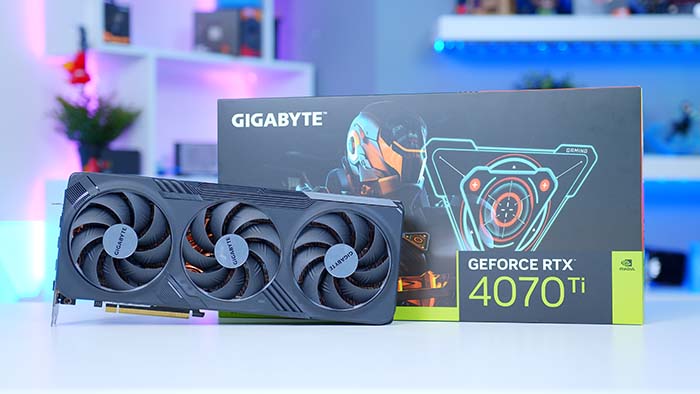 | | |
| --- | --- |
| Memory Capacity | 12GB GDDR6X |
| Boost Clock Speed | 2.7GHz |
| RT Cores | N/A |
| CUDA Cores | 7680 |
| TDP | 290W |
| Release Date | January 2023 |
| Price | Check Price on Amazon |
Nvidia RTX 4070Ti Specs
Nvidia's RTX 4070Ti boasts relatively impressive specs compared to the 7900XTX. The only major differences between them are the wattage and memory capacity, where the 4070Ti sports half the amount in comparison. We weren't surprised about the announcement of the 4070Ti, and its good to see that Nvidia have rebranded the name to something more appropriate. But the true indicator of the value of this card will be the performance metrics.
So far, the performance sits where we expected it to be. The 4070Ti lies somewhere in between the RTX 4080 and RTX 3090Ti. Overall, our frames are much closer to the RTX 3090Ti. In some games we're able to surpass the RTX 3090Ti, and in other titles performance isn't as close. The 4070Ti definitely benefits with the usage of DLSS, especially when Frame Generation is enabled. When Ray-Tracing is enabled, performance does tend to suffer somewhat, as there is a significant amount of overhead, but the 4070Ti is able to handle Ray-Tracing much better than many of the 30 series SKUs. Overall, the performance of the RTX 4070Ti seems relatively strong, but its entire value hangs on whether this card has been appropriately priced.
As of January 3rd, Nvidia have officially announced the launch of the RTX 4070Ti, and alongside some sketchy performance metrics, we've been given a hefty price tag of $799. We believe that as a mid-range SKU, the 4070Ti should be priced around the $600-$700 mark to be worth picking up. This would make it much more competitive than the RTX 3090Ti if priced at this point. But based on Nvidia's previous market entrants (the RTX 4080 and 4090), there isn't much to suggest this card will see any price drops anytime soon. This card is pretty good when it comes to gaming at 4K, but you'll definitely want to weight up its monetary value before settling on a purchase, as there are alternative options that come in at a lower price with very similar performance metrics.
Buy the Nvidia RTX 4070Ti on:
AMD Radeon RX 7900XTX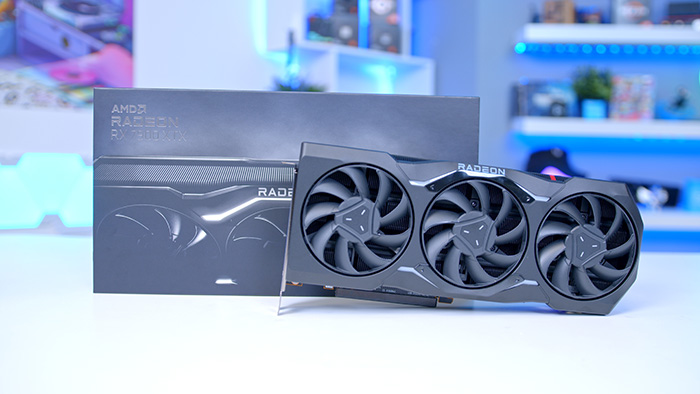 | | |
| --- | --- |
| Memory Capacity | 24GB GDDR6X |
| Boost Clock Speed | 2.5GHz |
| Ray Accelerators | 96 |
| Stream Processors | 6144 |
| TBP | 355W |
| Release Date | December 2022 |
| Price | Check Price on Amazon |
AMD RX 7900XTX Specs
After a culmination of losses, the new RDNA3 graphics cards were the win that AMD needed to stay relevant and competitive, and so far these new GPUs are definitely impressive. AMD has taken a new design approach to their latest cards. They retain the 6/8 Pin PCI-E power connector, but the physical die is a chiplet, which is a first in the world for GPUs. Everything seems relatively promising for AMD, but much like the 4070Ti, the proof is in the pudding.
The Radeon 7900XTX offers extremely strong performance compared to Nvidia's 40 and 30 series cards. The 7900XTX is more closely aligned with the RTX 4080 in terms of framerates. Much like the 4070Ti, 4K doesn't pose much of an issue, and consumers can enjoy smooth gameplay with minimal frame drops. Although we don't have FSR 3 yet, AMD's current iteration of FSR also significantly improves FPS where available. Unfortunately when Ray-Tracing is enabled, this is where performance tends to fall flat to some extent. AMD hasn't quite cracked Ray-Tracing it seems, but we imagine with the release of the FSR 3 technology later this year, consumers will be able to enjoy Ray-Traced titles with less performance overhead.
Looking at pricing, AMD have done a much better job at remaining competitive compared to Nvidia. Despite the 7900XTX being considered a top-end SKU, AMD have set the price of this GPU just below $1000. Although the AIBs will sit above this, they're still a better offering than the RTX 4080. We don't know where the 7900XTX sits compared to the 4070Ti in terms of price, but if Nvidia follows the pricing of their most recent RTX 4000 cards, it is likely the 4070Ti won't sit well with consumers based on the performance. However, until we know what the official price tag is, its hard to say which card is better overall in terms of value. But so far, AMD's Radeon 7900XTX is an excellent card that sits at a great price compared to a number of other options on the market and it will not disappoint when it comes to gaming performance.
Buy the AMD Radeon RX 7900XTX on:
Our Testing Methodology
To ensure that all components and products are tested fairly, we've created a rigorous and repeatable methodology that involves benchmarking parts in a number of Esports and triple A titles. We do this to provide an idea of what performance to expect so that consumers can reach a similar metric using the same settings and components. Any parts we test are put into a benchmarking system that uses similarly matched components in terms of performance, this is done to minimise any bottlenecking that could impact the end result.
The second part of this methodology is ensuring that we stick to our editorial promise, which can be located in our 'About Us' Section on the GeekaWhat website. This promise ensures candidness and impartiality when it comes to products and components, which involves having our articles edited by an in-house team who are not subject to external review by brands or manufacturers.
Benchmarking Performance
As per all of our articles, any data that we've compiled of graphs that feature on our website are courtesy of our very own YouTube channel – 'Benched'. There you'll be able to find full benchmarking runs in a number of popular gaming titles showcasing the settings we've used with a variety of components
Battlefield 2042
First off, in Battlefield 2042, we saw impressive performance from both of these GPUs with the 7900XTX sitting towards the top of the graph. The 4070Ti wasn't far behind, outputting around 94 frames per second on average, which is more than enough to have a smooth gameplay experience. There wasn't a huge amount of difference in frames here that set these games apart which goes to show that the 4070Ti is a strong contender performance wise.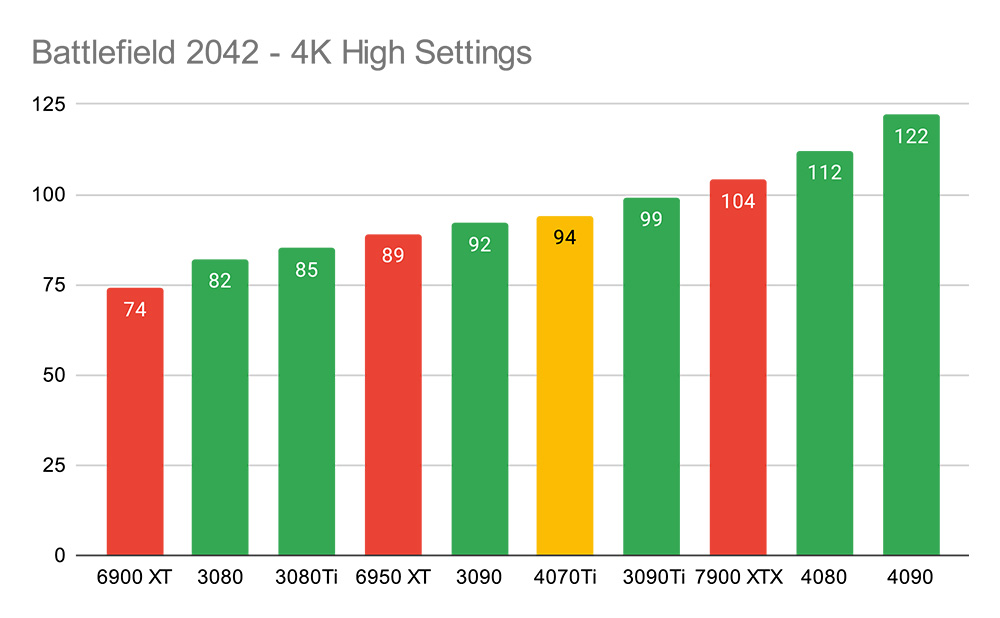 Fortnite
In Fortnite, we dialled the resolution back to 1080P and set the game to run at Competitive settings. These settings are commonly used in an Esports setting and we use them to see how high each GPU can push the framerate. In this title, both of these graphics cards offered great performance with the 7900XTX leading the fore. The 4070Ti wasn't quite able to reach the 300FPS mark, capping out at 295, but both of the framerates offered from these GPUs is enough to enjoy a buttery smooth refresh rate with minimal frame dips.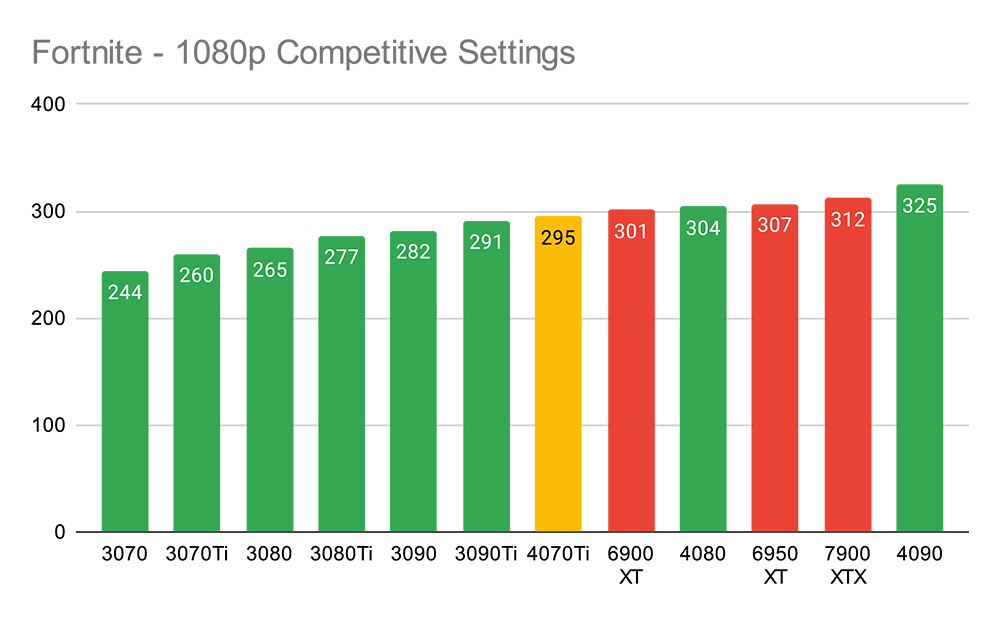 Apex Legends
In Apex Legends at 4K, we saw extremely impressive performance from the 7900XTX, with this GPU topping the 200FPS mark (which we haven't seen with any other graphics card so far). Although the 4070Ti was still able to reach a reasonably high framerate, it wasn't quite able to match the performance of AMD's latest innovation. Overall, both of these cards performed very well but AMD is the clear winner in this title.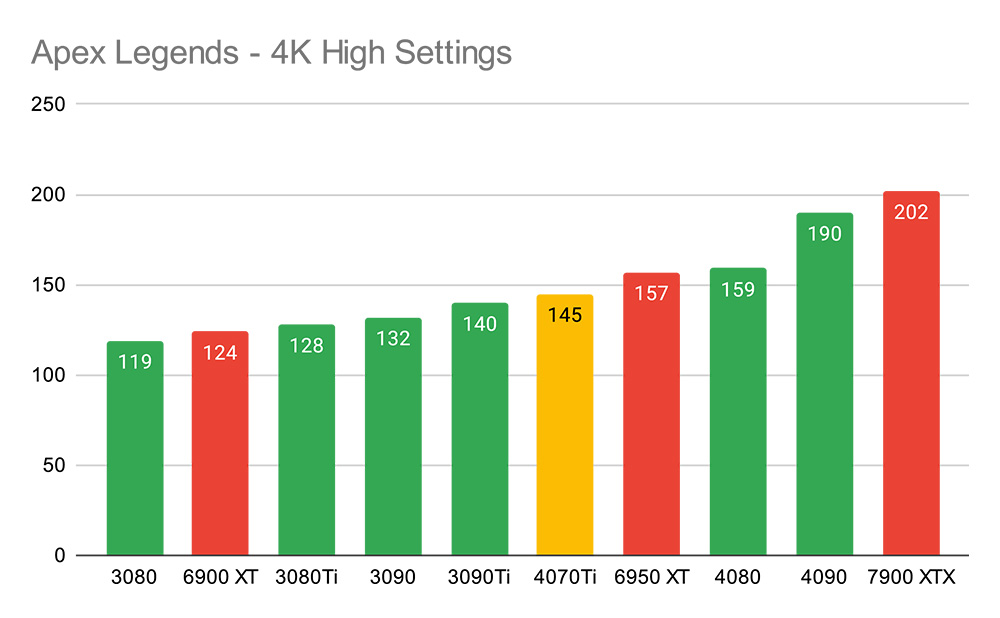 GTA V
For our final game, we tested out GTA V at 4K high settings. In this title, the 7900XTX was able to surpass the 160FPS mark, which is definitely needed due to this game often experiencing frame drops. The 4070Ti was extremely close behind, offering 158FPS on average, which is a mere four frame difference. Consumers playing GTA V will benefit from having more frames as this title can experience frame drops in high-intensity areas.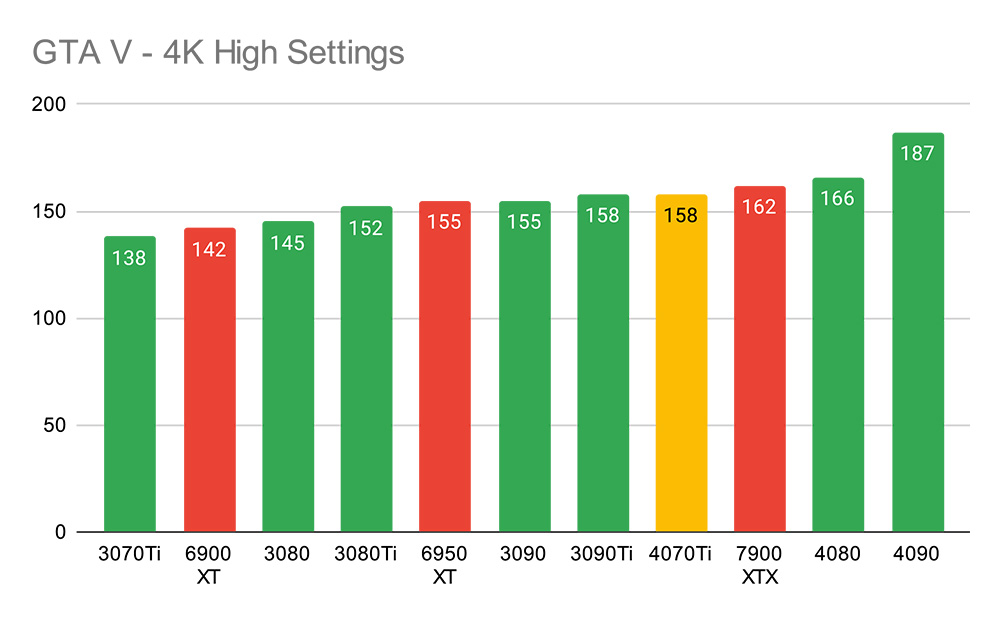 Conclusions
So which of these GPUs is better? Is Nvidia's latest card a better offering based on its on-par performance to the 7900XTX? Or is AMD's latest innovation a better choice if you're looking for a better value-proposition? Well ultimately – it depends. The performance of these cards are somewhat skewed when we look at the numbers. In certain titles, the 4070Ti is extremely close to the 7900XTX, and in others you're looking at significantly less frames at 4K or 1080P settings. This shows that raw performance isn't as strong comparatively, dependent on the game that you're playing.
When we look at pricing, the situation starts to become somewhat more complicated. With Nvidia pricing the RTX 4070Ti at $799, the winner in terms of price tag is Nvidia, but with the performance of the 7900XTX offering significantly higher frames in pretty much every scenario, the price jump to pick up one of AMD's newest entrants could be a worthwhile choice. Ultimately this depends on your use-case, and the framerates consumers are trying to achieve, but consumers may find better value with AMD's latest product.