Introduction
The gaming monitor market has become saturated with a plethora of choices for consumers to choose from, with OLED panels, high resolution displays, and buttery smooth refresh rates designed to make playing fast-paced titles a breeze.
Today we'll be taking a look at one of the latest panels from Gigabyte, the AORUS FI27Q-X. Sporting a 240Hz refresh rate and 2160P QHD resolution, with Nvidia G-Sync and FreeSync Premium compatibility, it's an impressive panel on paper. In this review, we'll be taking a look at the key features of this monitor along with the design aesthetic, seeing how well this panel stacks up in practice.
Buy the Gigabyte AORUS FI27Q-X Monitor on:
Suggested Article: Best 1440P Gaming Monitors to Buy in 2022
Is 1440P Worth It?
For quite some time, the go-to standard resolution for gaming has been 1080P. 1080P monitors are by far the most popular and are saturated the most in the market. Due to the low overhead for your GPU, and the fact that these monitors are much cheaper, they have been the standard for as long as I can remember.
But over the past few years, we've started to see an influx of higher resolution panels. QHD, or 1440P, displays allow consumers to enjoy a higher resolution (improving visual quality), but without a drastic performance overhead that can come with increasing pixel count and resolution. This performance overhead is one major reason as to why 4K gaming monitors have not increasing in popularity as quickly as some predicted.
Whether or not 1440p is indeed worth it, and you need the added quality from a 1440p panel ultimately this depends on your use-case. If you're playing a variety of games that focus on graphical fidelity, you will be able to see a significant difference in the sharpness that comes with this resolution. Titles like Cyberpunk 2077 of God of War will look much better with a 1440P display, when compared to a lower resolution 1080p design. However, if you're playing Esports titles where your frames are more important you might want to reconsider upgrading based on the performance overhead that comes with a higher resolution.
Gigabyte AORUS FI27Q-X Aesthetics & Design
First off, I must admit that the AORUS FI27Q-X is a pretty good looking monitor. The front of the display doesn't have much on offer to look at, but I'm a big fan of the zero-bezel design. It means you can enjoy more screen real estate, instead of your panel being covered by a big chunky bar. It would also be perfect for an immersive, multi-monitor setup!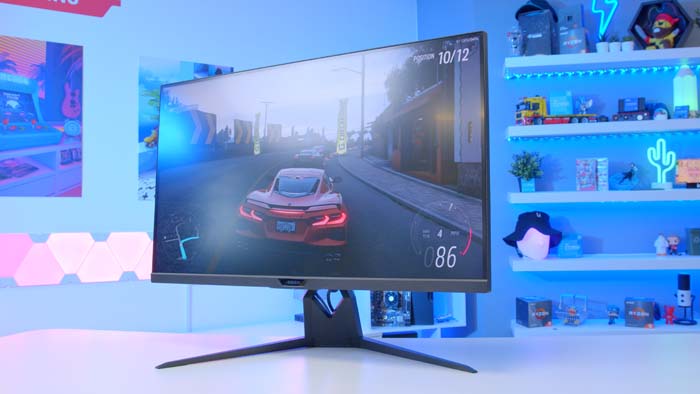 Moving around to the back of the display, Gigabyte has embraced the RGB eeisng aesthetic on this monitor. The right and left of the monitor have wings that light up with plentiful RGB that can be customised the RGB Fusion software. I do like the RGB being on the back of the display, but it does feel a little bit pointless to some extent as you can't actually see it unless you're looking at the rear.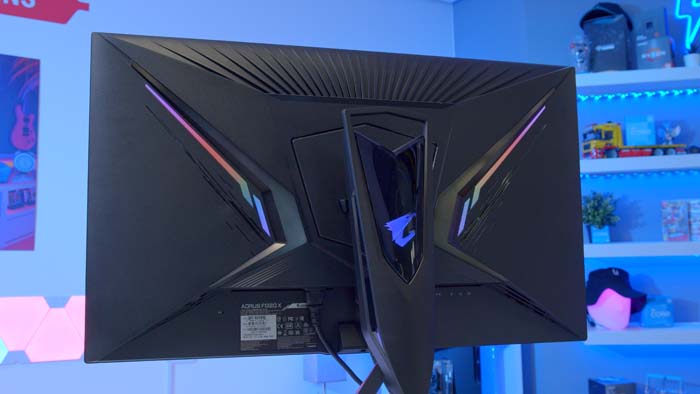 Otherwise, Gigabyte have opted for a relatively minimalist design. They haven't gone overboard on the RGB, but its placement is a little bit strange. The top of the stand has a handle which is nice if you plan on moving around your monitor a lot, or taking it with you on the move. The 27 inch design is also great too, with this size striking a fine balance between offering plenty of screen while not being so big it takes up too much desk space. The included stand is also fantastic, providing plenty of height, tilt and rotation options. In the box, Gigabyte also include a 'clamp'-style stand, which rids feed for a desk clamp – an awesome touch!
Features
The Gigabyte AORUS FI27Q-X has a huge amount of features that give you a great user experience coupled with offering a plethora of usability features. We've broken down the principal features of this monitor below:
Resolution and Refresh Rate
The main selling points of the FI27Q-X are of course the resolution and the refresh rate. You've got access to a 2560×1440 QHD resolution which will significantly improve the quality and sharpness of games. When coupled with a 240Hz refresh rate, the panel is also very competitive, and brings a buttery smooth experience to the user.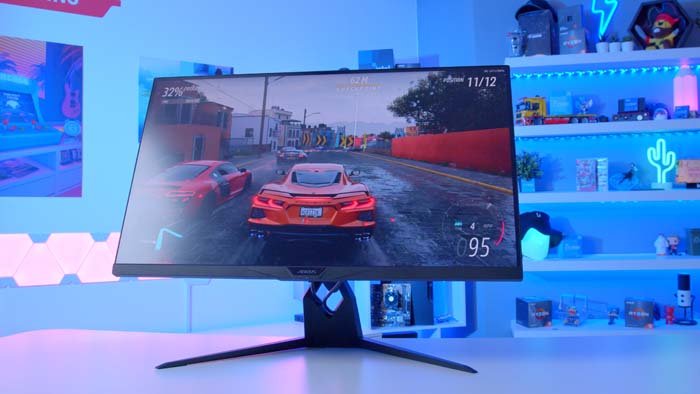 1ms Response Time (GtG)
Generally speaking, higher resolution monitors tend to struggle with maintaining a lower response, something which can have a big impact on a potential buyers purchase decision. However, time and technological advancements have removed this issue with many monitors hitting 1ms or lower with their response times. The FI27Q-X boasts a 1ms response time (Gray-to-Gray) making this display a viable option for Esports titles that need optimised response times and refresh rates.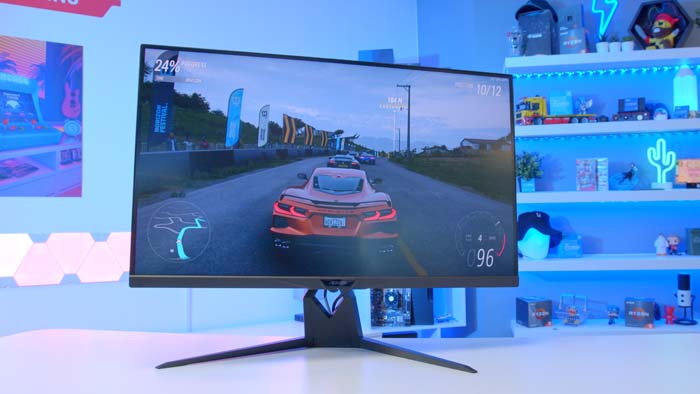 IPS Panel
One of the other major benefits of this monitor is that it utilises an IPS panel. IPS displays provide excellent colour accuracy, but have often suffered from lower response times. As we've discovered above, the FI27Q-X has a blazing-fast 1ms response time, meaning Gigabyte have opted to include a very good panel with this display.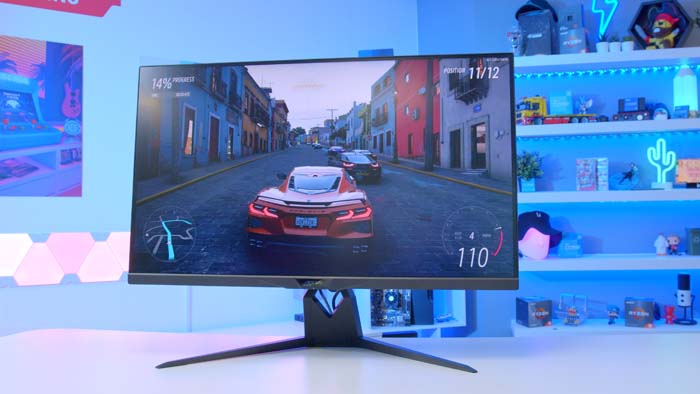 FreeSync Premium & G-Sync Compatible
The FI27Q-X is a great choice for both Nvidia and AMD users based on its support for both FreeSync Premium and G-Sync. These technologies massively reduce stuttering, tearing and it makes your gameplay a near-fluid experience furthering how smooth gameplay can be with this monitor.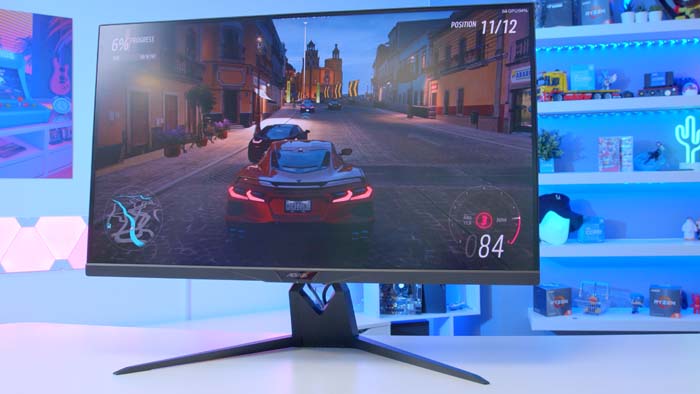 USB & Audio Hub
Having an included hub on a monitor is a nice usability feature, because it allows users to easily plug in peripherals, while offering charging ports, and audio ports. And this monitor has exactly that! The FI27Q-X has two USB 3.0 ports with a quick charging port for peripherals or perhaps a mobile phone. You can also make use of the active noise cancelling with the 3.5mm headphone jack on the back too.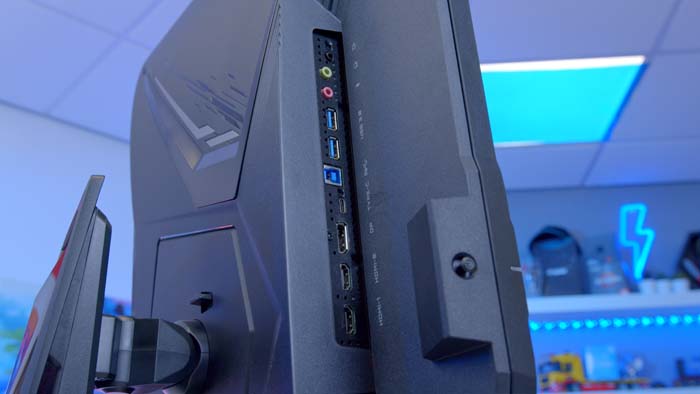 Conclusion
Gigabyte AORUS FI27Q-X
Product Name: AORUS FI27Q-X
Brand: Gigabyte
Features

Design

Versatility

Value For Money
Summary
Gigabyte's FI27Q-X monitor is a nice addition to the 1440P monitor market. With an extremely high refresh rate, compatibility for G-Sync and FreeSync, and a 1ms response time, gaming is a super smooth experience. However, there are some serious caveats to Gigabyte's innovation. The first point is the price. For the price of this monitor, you could pick up multiple 1080P monitors, or a decent 4K gaming display. The price tag just seems too high for this display. The second point is that, reaching a 240Hz refresh rate is nearing impossible for most mainstream consumers. If you decide to dumb down all of your in-game settings to low with a newer RTX 3000 series graphics card, you might be able to reach 240FPS at times. But consistently maintaining these frames will be extremely difficult unless you buy a rather expensive GPU, or you move all of your settings down to the lowest they can reach. And at that point, if you've lowered your settings, what is the point of enjoying a game that looks dreadful at 1440P? There are some other issues relating to the design, such as only having a software based OSD, but we don't want to keep going on. If you take away some of the glaring issues, Gigabyte have done a good job, but for the most part this monitor seems relatively out of reach for your average consumer unless you're willing to spare some big bucks to pick this up.
Pros
✅ 1440P panel provides great visual quality.
✅ Versatile and ergonomic angles for viewing.
✅ Design is overall very sleek and sophisticated.
Cons
❌ Very expensive for a 1440p panel.
❌ Will need an RTX 3080-tier or above graphics card to play games at 240Hz consistently.
❌ No physical OSD on the monitor.