Introduction
The motherboard market consists of a myriad of options, each with varying features, that makes selecting the best board for you a tricky process. As if the choice of features wasn't quite confusing enough, the next challenge comes when looking at form factors and sizes. Do you need a small Mini ITX motherboard, or should you weigh up the advantages of a huge E-ATX design? Does motherboard form factor actually matter? These are all questions we'll be looking to answer as we delve into the world of motherboard form factors!
Suggested Article: What is a Motherboard & What Are They For?
What is Form Factor?
The form factor of a component quite literally refers to its physical size, and determines how big the part will be. For example, cases generally come in three different form factors: ITX being the smallest, followed by Mid-Tower designs and then Full Tower options. Storage is the same story, with different form factor drives, range from small M.2 SSDs, right through to large 3.5″ hard drives.
Motherboards come in one of four typical form factors, these are: Mini-ITX, MicroATX, ATX and E-ATX. The manufacturer will always details on their site the form factor a motherboard sits in, but there are some easy ways to check visually which we'll come to.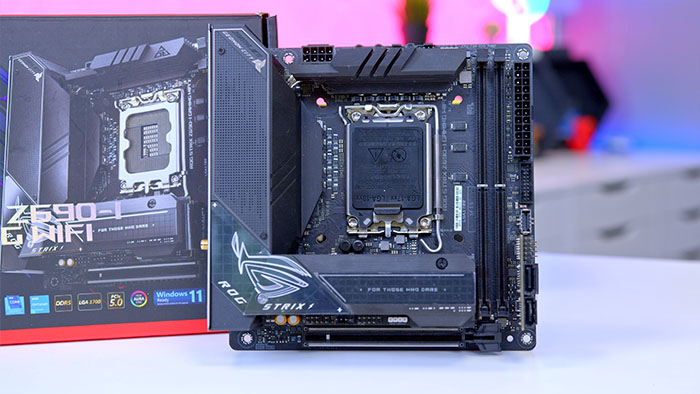 The Effect of Different Motherboard Form Factors
The form factor of your motherboard will ultimately affect the rest of your component choices. The more generic sized ATX and Micro ATX won't pose too much hassle when it comes to deciding on your case, cooler, GPU and any other components. The extremities at either end of the spectrum (E-ATX and Mini-ITX), on the other hand, will require you to shop around a little more, buying more specialist (and often more expensive) components.
Using the new mainstream NZXT H7 case release as a reference point, this is a design which supports Mini-ITX, MicroATX and ATX motherboards just fine, but only support up-to a certain size of E-ATX design (up to 272mm wide). This means that if you're favouring NZXT's latest case designs but you've got a huge motherboard you might be disappointed. This issue isn't limited to NZXT either, as manufacturers generally look to support the ATX and Micro ATX form-factor best on their mainstream case designs.
On the opposite end of the spectrum, with small Mini ITX motherboard designs, you'll need to be careful with the size of your other components. Building a small form factor system constrains the types of coolers you can use, which itself can cause headaches with RAM and GPU clearance. That isn't to say going for a very small form factor motherboard (or similarly, a very large form factor board) is a bad decision, it just requires more forward planning.
Top Tip! Don't try to pair huge external components with small motherboards, and make sure to check clearance levels against coolers, cases and graphics cards!
Mini ITX vs M-ATX vs ATX vs E-ATX?
Mini-ITX Motherboards
Mini-ITX motherboards are currently the smallest available desktop motherboards one can buy. These boards, although small compared to the rest, can be quite pricey. This might seem counterintuitive, as there are less raw materials involved in a smaller design… right? Not quite. Manufactures need to find innovative ways to cram in as many features as possible, meaning budget boards for this form factor don't really exist.
The biggest point to note with ITX motherboards is that they will often have less features than other motherboards. The physical size of the motherboard naturally introduces constraints manufacturers just can't overcome. ITX motherboards will often have two RAM DIMM slots instead of the typical four, while the number of PCI-E slots for SSDs and GPUs is going to be significantly reduced. You will also see reduced support for overclocking, with the lack of physical space available to house VRM cooling and heatsinks.
The ITX form factor is geared towards those that have small/portable setups, or want to hide their build on a shelf or under a desk. Typically, to have a fully fledged ITX system, you will need to shop around for cases, and even smaller form factor graphics cards, such as a Zotac's Mini Range, in order to fit all of your components in.
Micro ATX Motherboards
A micro ATX motherboard is a more typical desktop consumer component, and is widely supported by other components, such as PC cases. Many cases support Micro ATX configurations, meaning you won't necessarily need to do in-depth research to find one that works.
In terms of features, Micro ATX motherboards will differ slightly between different ranges and manufacturers. The main features to look out for with concerns to this form factor is the number of PCI-E slots and DIMM slots available. When it comes to PCI-E slots, you'll likely be looking at less overall compared to ATX and E-ATX, but still enough for some expandability. Micro ATX motherboards generally have two PCI-E x16 slots, with at least one x4 slot available.
Ideally you want to see the inclusion of 4 RAM DIMM slots, for the use of dual channel memory installations, but the number will differ based on the pricing of the motherboard in question. 2 slots is not a deal breaker, especially for those shopping on a budget, but it is worth considering. Micro ATX boards usually reach a good balance of available features and pricing, with their positioning in the middle of the available sizes.
ATX Motherboard
ATX motherboards are the most common motherboard form factor around, and as such there are many more available to buy. The benefit of having an ATX motherboard is that you can maximise features without having to do the same with your budget. Even budget ATX boards can still have plenty of features, without you needing to spend a fortune. For example, Gigabyte's B660 DS3H AX, designed for the Intel 12th Gen range, has features such as Gen 4 SSD support and even integrated WiFi, while remaining an affordable choice.
Besides E-ATX motherboards, a standard ATX board will be the most versatile when it comes to connectivity. As with the other form factors, the number of features available is still going to be largely impacted by how much you spend.
ATX boards almost always include 4 RAM DIMM slots, multiple PCI-E x16 slots (of varying generations), multiple M.2 slots and plenty of rear IO connections. You should have very little trouble trying to find a case that supports an ATX motherboard, with the only problem you could potentially face being standard component clearance issues. These may include tall sticks of RAM, a large cooler, or a particularly big graphics card.
E-ATX Motherboard
E-ATX or 'extended ATX' are the biggest boards of the bunch and like ITX, these boards are at the extreme end of the spectrum. E-ATX motherboards can be awesome for features, but they are often the most expensive.
E-ATX boards as a general rule are geared towards enthusiasts that are building a high-end system, or those looking for specialised use cases. There is no reason to pick up an E-ATX board for a 'regular' gaming PC build.
The major benefit that you get with E-ATX motherboards is the sheer amount of included features. The size is only really used when manufacturers want to cram in as much as possible and utilise pretty much all of the available space. For example, MSI's MEG Z690 GODLIKE motherboard includes two PCI-E 5.0 x16 slots, six M.2 slots, four DDR5 RAM DIMMs, 20+2 power phases on the VRMs, and as much rear IO as you can possibly imagine. You will pay a hefty amount for the privilege, but this is a consistent theme on high-end, high-feature E-ATX boards.
Summary of Differences
Choosing a motherboard form factor is both an important and difficult decision, so we've created a table that outlines the key differences in features between each form factor.
| | | | | |
| --- | --- | --- | --- | --- |
| Features | Mini-ITX | Micro ATX | ATX | E-ATX |
| PCI-E x16 Slots | 1 | 2 | 3-5 | 3-5 |
| PCI-E x4 M.2 Slots | 1-2 | 2-4 | 2-5 | 4-6 |
| RAM DIMM Slots | 2 | 2-4 | 4 | 4 |
| VRM Power Phases | 11 | 11-15 | 11-22 | 18-22 |
| SATA Ports | 2-4 | 6 | 6 | 6 |
| USB 2 Ports Rear IO | 1-2 | 2-4 | 2-4 | 0 |
| USB 3 Ports Rear IO | 2-4 | 2-6 | 2-8 | 8-10 |
| Fan & Cooling Headers | 2-3 | 4-6 | 4-10 | 6-10 |
| RGB Headers | 1-2 | 3-5 | 4-6 | 4-6 |
Our Recommended Motherboard Picks
Below we've recommended our favourite motherboards from each form factor. The ones we've chosen provide a range of different prices and features from the Intel 12th gen chipsets!
Best ITX Motherboard: ASUS ROG STRIX Z690-I Gaming WiFi
This ITX motherboard despite its small stature is absolutely crammed with features. Due to this motherboard being on the Z690 chipset it can utilise PCI-E 5.0 for it's x16 slot and Gen4 for it's M.2 SSDs. This motherboard is also DDR5 compatible, so you can slot in some of the newest speedy RAM. Overall this motherboard is a great pick if you're wanting a smaller setup with a wide range of features!
---
Best Micro-ATX Motherboard: MSI B660M Mortar
MSI's B660M Mortar is one of our favourite boards to utilise some of the latest features that came with Intel 12th gen. This motherboard features an integrated IO shield, with a huge range of IO to choose from including onboard WiFi, high speed USB 3.2 ports and 2.5 Gigabit LAN. For connectivity, this board has two Gen4 M.2 slots, 4 DIMM slots for high speed DDR4 RAM, and a heatsink design that provides a different aesthetic. If you're looking for a slightly smaller form factor board, then this will be a great addition to any system.
---
Best ATX Motherboard: Gigabyte B660 DS3H AX DDR4
The Gigabyte B660 DS3H AX is an incredible budget ATX board. We've covered this board multiple times and done an in-depth review looking at all of the key features. Budget motherboards can lack on features to save cost, but this motherboard does not follow suit. You've got plenty of rear IO including integrated WiFi which is a rarity on cheaper boards. For connectivity there's 4 DIMM slots that allow up to 5333MHz overclocking, and for PCI-E you've got two Gen4 M.2 slots. This motherboard is excellent if you're looking to get started on PC building.
---
Best E-ATX Motherboard: Gigabyte Z690 AORUS Master
The Gigabyte Z690 AORUS Master is one of the top end boards available on the Z690 chipset. This board has pretty much all of the features you can imagine on an E-ATX board, DDR5 RAM, PCI-E 5.0 support and Gen4 for SSDs (of which there are multiple). A huge range of rear and front IO, and to top it all off, the board looks great with the extended heatsink design and RGB logos. For those looking to build a high-end PC on the Z690 chipset, this is an awesome choice.
---
Conclusion
Motherboards are a vital component to any PC build, but choosing a form factor is ultimately down to you as a consumer. The two main form factors Micro ATX and ATX have been a mainstay for as long as we can remember, but we have seen a shift of the two extremities becoming more common. As PC enthusiasts continually yearn for more, I'm sure the ITX and E-ATX motherboard space will only grow.