Introduction
Nothing excites me more as a PC hardware reviewer than when a brand new product whisks its way through our doors for testing and benchmarking. No component is more exciting to test than a new GPU or CPU. Today we have the latter, as AMD finally bring their long-awaited Ryzen 700 lineup to the masses, and flex the muscles of their Zen 4 architecture.
In this piece we'll be evaluating the mid-tier CPU which AMD hopes will swallow up the vast majority of market share, their Ryzen 5 7600X. Designed to replace the Ryzen 5 5600X, a very successful chip in its own right, and compete against the equally popular i5 12600K, is it up to scratch?
To find out, we'll be running a wide range of gaming, productivity and synthetic benchmarks, comparing the benchmark results from the 7600X with a range of competition CPUs from Intel and AMD. To do so, we'll also be looking at brand new 'EXPO' compatible DDR5 RAM kits, and a wide range of X670 and X670E motherboards from board partners such as ASUS, MSI and Gigabyte. You read find a range of X670 motherboard reviews on our site, and our review of the more pricey Ryzen 9 7900X Zen 4 derivative.
Buy the AMD Ryzen 5 7600X on:
AMD Ryzen 7000 Architecture
AMD's AM5 architecture is a further enhancement upon AM4, which was used for the entire Ryzen lineup so far, ranging from the 1000 lineup to most recent 5000 series. AM5 brings with it a new socket, chips manufactured on a new 5nm node and a vast array of new motherboards, each with plenty of new features. seen in Ryzen 5000 CPUs. While somethings are all-change, not everything is brand new, with AMD has also deciding to continue the utilisation of the chiplet design pioneered in Zen 2, which can see performance bonuses with high speed memory.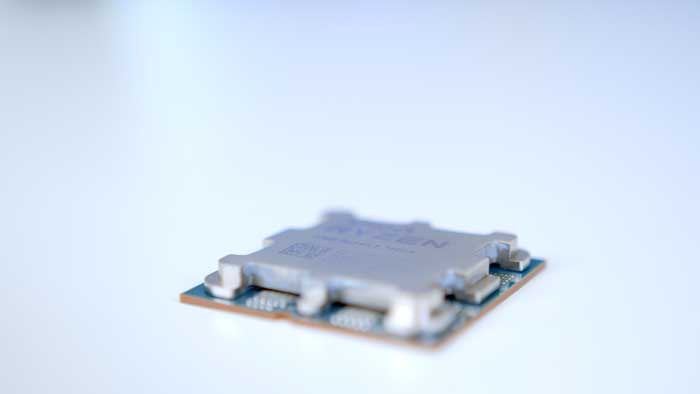 AMD's major focus with Ryzen 7000 seems to be boost clock speed and multi-threaded performance. At the top-end, the Ryzen 9 7950X is equipped with 16 cores and 32 threads which run at a whopping 4.5GHz out of the box, with a boost capability of 5.7GHz. The CPU that we're taking a look at today, which is AMD's cheapest option currently available, sits at 6 cores 12 threads, with a boost clock of 5.3GHz. For context, this sits on par with the Core i9 12900K in terms of clock speed, helping to push AMDs advances in the single-thread department. This is particularly important, as single-threaded performance is often the most important area for gaming performance. Very few titles are optimised to take advantage of designs with 8 or more cores, with fast singular threads of far more benefit to even the latest AAA titles.
With regards to the rest of the architecture, AMD don't seem to have changed much on the cache front. Every core has 1MB of cache each now, which is a good addition, but we're yet to see any major improvements to the overall cache. The Ryzen 5 7600X sits at around 38MB of cache which is plenty for a mid-range gaming CPU, with no complaints from us here. We expect to see AMD announce their 3D variants of this CPU range at some point next year which will bring market leading cache to the fore.
For graphics, AMD have gotten rid of their APU range and have instead decided to integrate RDNA 2 graphics into each of these CPUs. These graphics are not particularly strong, and more oriented at day-to-day use, in spite of their gaming branding. This is less of an issue now that GPU prices are back to a level of relative normality.
What About the Socket Change?
One of the obvious major changes to AMD's newest Ryzen 7000 range is of course the switch to an LGA socket. This means we won't be seeing the typical pins on the underside of the CPU. Instead, the pins have changed and are now on the motherboard. This means that you don't need to worry about bending anything when inserting your CPU, but still exercise caution regardless.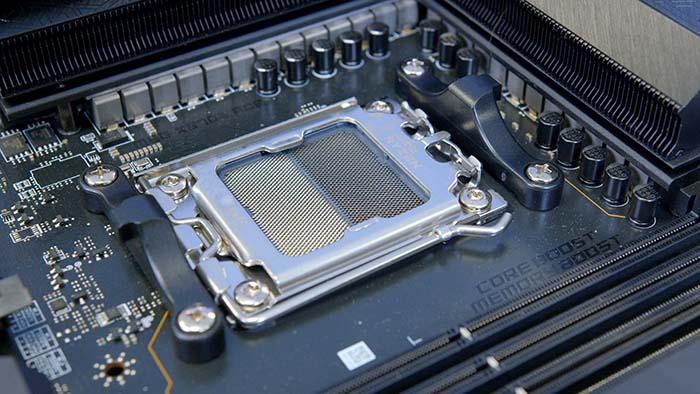 Despite this new CPU socket removing upgrade paths for older Ryzen users, AMD have still decided to retain AM4 cooler support. This means you can save some money during the upgrade process. Keep in mind, your mileage may vary with each cooler, and you may not be able to install all of the options that support AM4, despite AMDs best efforts on the backwards-compatibility front. The best course of action here is to consult your CPU coolers product page or manufacturer for clarity.
Ryzen 5 7600X Compatibility
The Ryzen 5 7600X is the lowest price option available from the initial four Zen 4 processors to land. That makes this chip a great bet to pair with the likes of an RTX 3060Ti or RTX 3070 GPU, with AMD's new RX 6750XT also a perfectly suitable option.
In terms of chipsets, we'd recommend sticking to the X670 and B650E motherboards as they'll save you some money, but still provide excellent performance regardless. This CPU is also great for overclocking, so be sure to look at motherboards with plenty of power phases and good VRM cooling if you'd like to push your Gen 4 chip that bit further.
| | | |
| --- | --- | --- |
| AM5 Chipsets | Compatible? | Do We Recommend? |
| X670E | ✅ | ❌ |
| X670 | ✅ | ✅ |
| B650E | ✅ | ✅ |
| B650 | ✅ | ❌ |
Ryzen 5 7600X Benchmarks
Now for the most important part of this review – benchmarking. The only way to see if AMD's new CPUs cut the mustard is to put them through our range of CPU benchmarks to determine how well they perform. We've used multiple Triple A titles, along with Cinebench, and 3D Mark's TimeSpy to check out the performance of these powerful processors. All of our benchmarks feature on our very own YouTube channel – 'Benched', where we test all of the latest GPUs and supplement them with plenty of statistics and graphs.
Ryzen 9 7900X – Cinebench
Single Threaded Results:
In Cinebench R23, the Ryzen 5 7600X held up pretty well. Single threaded performance was fantastic, with this mid-range chip beating out both the i9 12900K and AMD's own Ryzen 9 7900X. These superb scores are no anomaly or error, but instead a reflection of this processors incredible clock speeds that push single-thread stats further than ever. AMD have done a superb job on optimising this chip from single-threaded, gaming workloads. Apply a modest overclock, and your mileage is set to further excel.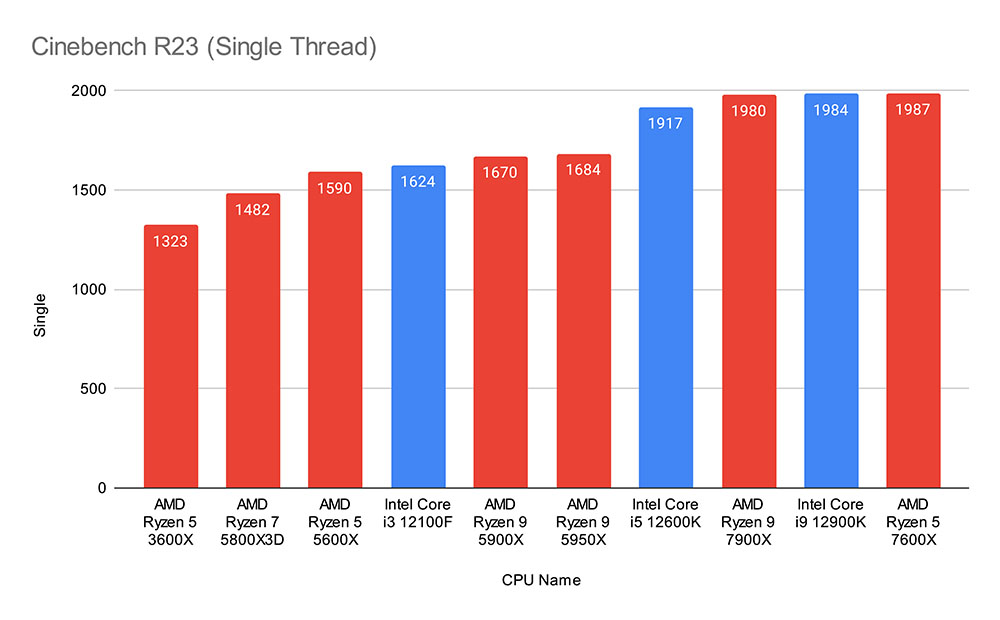 The multi-threaded scores for the Ryzen 5 7600X painted a slightly different picture for the 7600X, as while it sat virtually on par with the Ryzen 7 5800X3D from last generation, it fell short to the 10-core i5 12600K. This makes the i5 a better shout for those looking to build a system also good for video editing, rendering or game streaming, while the Ryzen 5 takes the gaming crown. Naturally, a chip like this can't be perfect at both sides of the performance coin, and we are glad to see AMD prioritise single-thread performance here for gamers.
Multi-Threaded Results: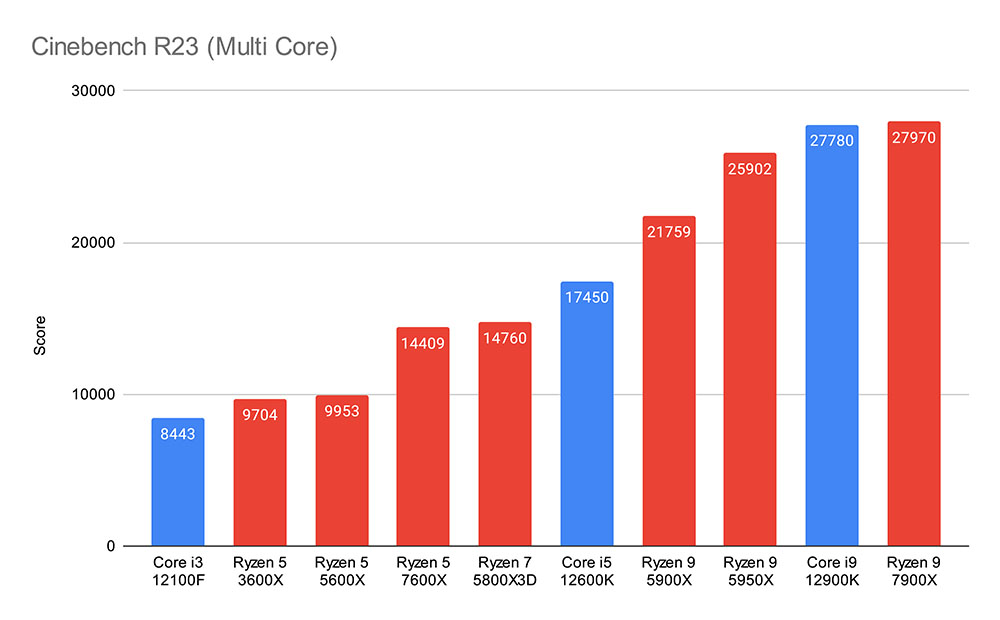 Ryzen 5 7600X – 3D Mark TimeSpy & 3D Mark Firestrike
During our TimeSpy benchmarks, performance was similar to Cinebench when compared to CPU's like the last-ten Ryzen 7 5700G and the Intel Core i5 12600K. In 3D Mark Timespy, the 7600X fell short of the 12600K by a small margin, with Intel showing overall dominance.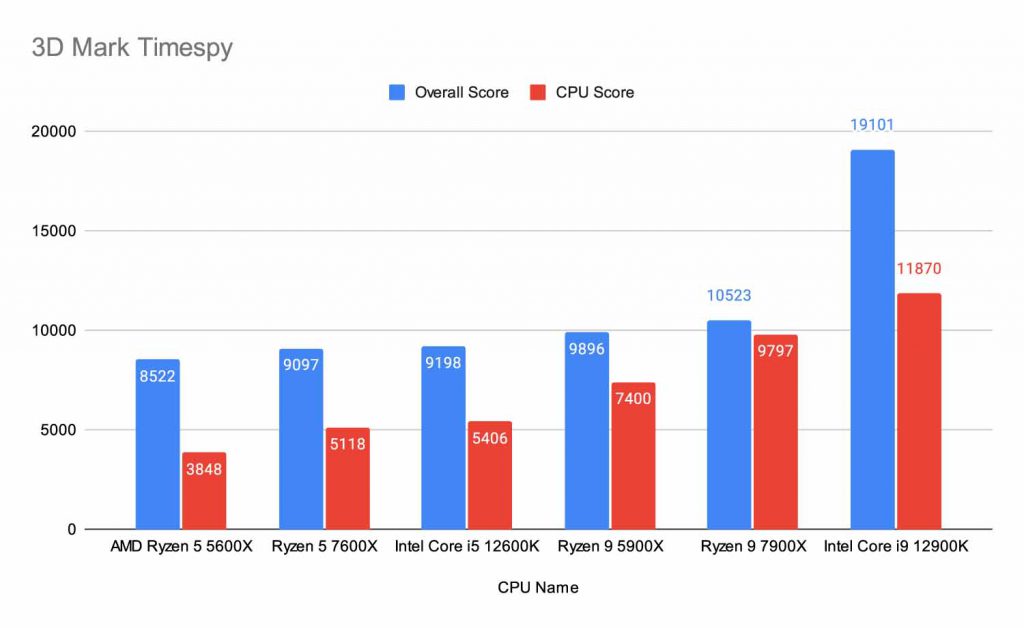 In Firestrike, an arguably more-relevant benchmark for gaming, the Ryzen 5 7600X pulled a more reassuring lead, overtaking the Ryzen 9 5900X for overall performance, and knocking on the door of the much more expensive i9 12900K. Results here were impressive, and the difference in scores between this Timespy test once again showed the two halves of CPU performance.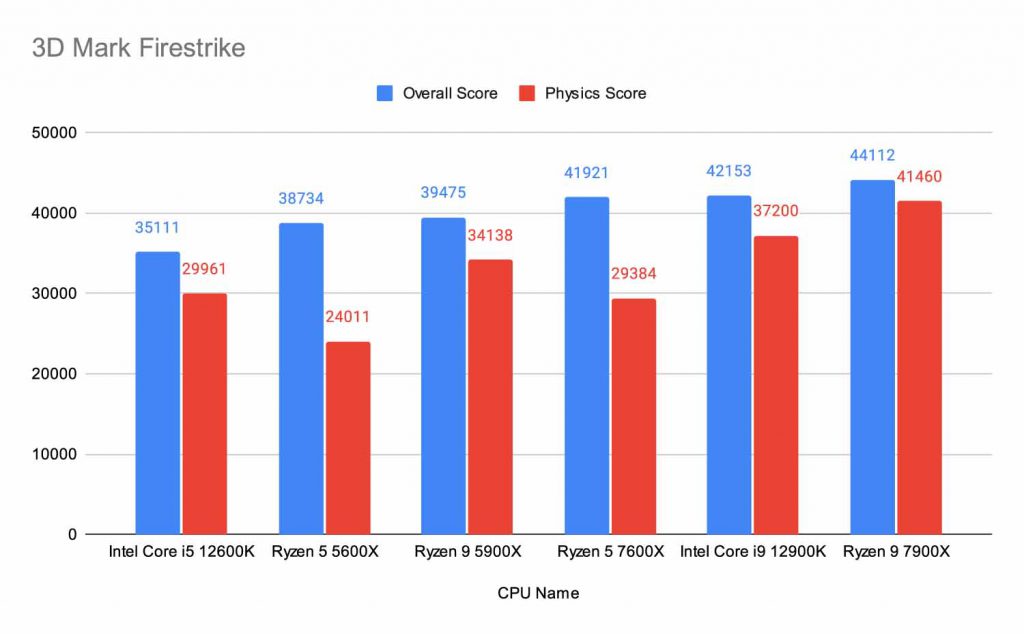 Ryzen 5 7600X – 3D Mark CPU Profile
In the CPU profile test, the 7600X achieved 7325 on max threads, and 1084 for single thread performance. Comparing against the Core i5 12600K, and AMD came out on top.
Taking a look at the max threads score, the 7600X unfortunately didn't beat out Intel's reigning mid-range champion. This fits with our other pattern of results, with Intel's 10-core design unsurprisingly staying atop of this more modest 6-core design.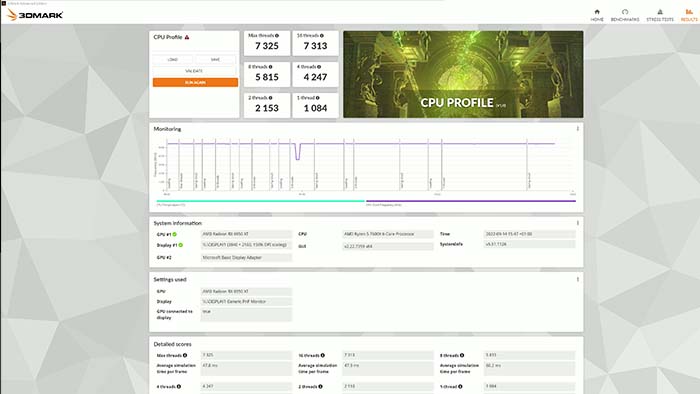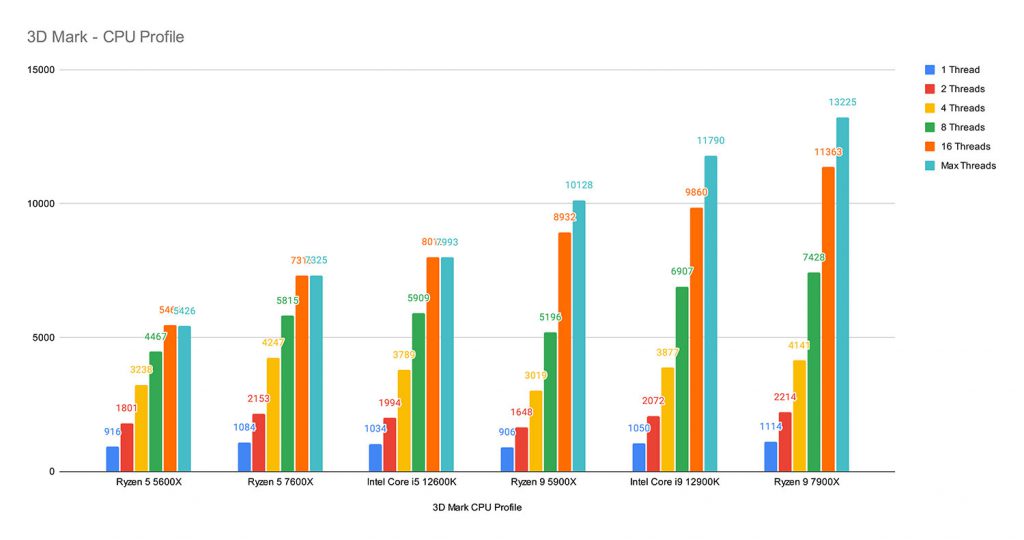 Ryzen 5 7600X – Battlefield 2042
In Battlefield 2042, we tested this chip at both 4K and 1080p. We'd recommend placing more emphasis on the 1080p scores as these are more relevant to the market this chip looks to dominate. At 4K, the 7600X beats out its 5600X predecessor, but falls significantly short of the 12600K from Intel. At this higher resolution, where a multi-threaded workload is more useful, the Ryzen 5 chip predictably falls behind.
AMD's mileage was significantly better in Battlefield 2042, whereby both new 7000 series chips pulled an incredible lead over their Intel competition and AMD predecessors. The Ryzen 5 7600X improved upon the 12600K by more than 70FPS, and also beat out the Ryzen 5 5600X by over 65FPS.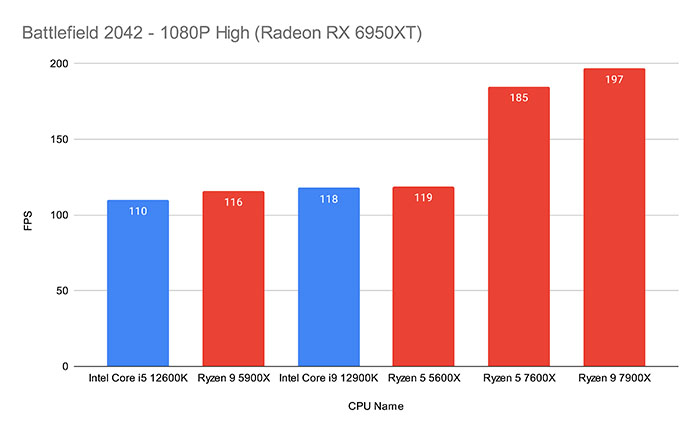 Ryzen 5 7600X – Apex Legends
In Apex Legends, the results settled down a little towards a more logical, and predictable, position. The 7600X beat out the 12600K, though not by a huge margin, slotting nicely between it and the more pricey i9 12900K.
Tuning down the resolution to 1080p, and the Ryzen 5 7600X pulled a more definitive lead over the i5 12600K, with a ~15% delta. The chip's single-threaded makeup working wonders at this lower resolution.
Ryzen 5 7600X – F1 2022
In F1 2022, the 7600X stacked up a little better at 4K than in our previous tests. Beating out the 5600X by just 2FPS, and the 12600K by 4FPS, results were solid. It also pushed up nice and close to the i9 12900K from Intel's 12th Gen lineup, while the other Ryzen 7000 chip tested, AMD's 7900X, pulled a definitive lead up top.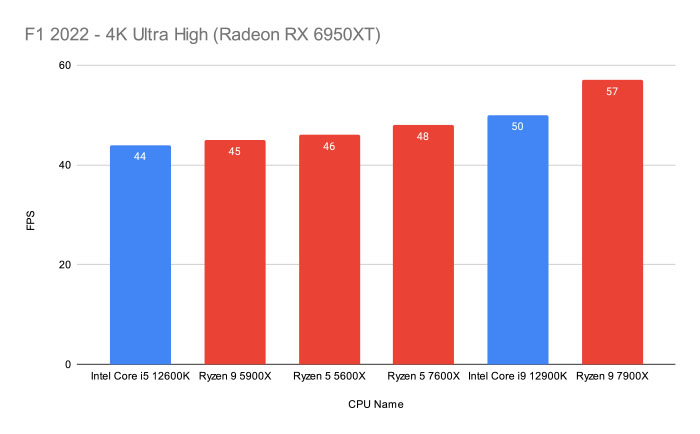 Tuning down F1 2022's resolution to 1080p and the 7600X once again cements its place as a mid-range king. Disposing of the i5 12600K by more than 25FPS and topping the 5600X by 15FPS, the chip performs very well.
Ryzen 5 7600X – Marvel's Spiderman: Remastered
When testing the Ryzen 5 7600X in Marvel's Spiderman Remastered, the Ryzen 5 7600X equalled the performance of the 12600K at 4K. This was actually fairly impressive given the higher core count of the 12600K, with the 7600X's strong clock speeds helping to compensate for its lack of cores, by allowing each core to perform quicker.
Turn the resolution down to a more reasonable mid-range 1080p and the 7600X excels. Beating out the i9 12900K, its own 7900X bigger brother, and leaving the 12600K for dust, there isn't much more you can say! Impressive stuff.
Thermals
To test our thermals, we threw the Ryzen 5 7600X into a Cinebench multithreaded run on loop. In this run, the 7600X sat at around 83 degrees with an all core boost. The 7600X was successfully able to reach its rated max clock speed under 100% utilisation, which is very impressive and showed zero signs of thermal throttling on a 360mm AIO cooler.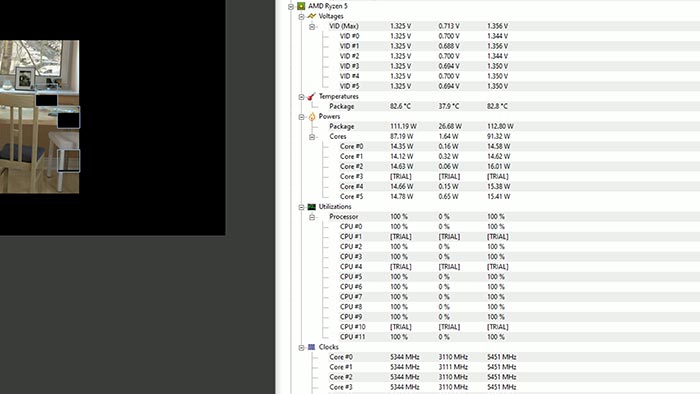 We also explored temperatures when a single core was under significant load, once again using Cinebench, but this time the single-thread test. Here the CPU temps sat around 44 degrees or so with the single core boost going above its rated clock speed. For one, this really surprised us. AMD have only rated the 7600X to be able to reach 5.3GHz, so surpassing this speed on a single thread explains why our gaming performance was so impressive. We can't guarantee every chip will fair so well in the silicon lottery, but it was impressive nonetheless!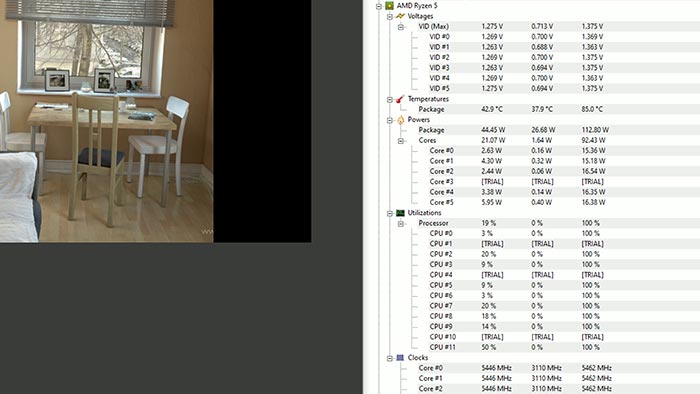 Our Thoughts
Undoubtedly, the new Ryzen 7000 CPUs are a welcome addition to the market. AMD have generally been consumer friendly regarding their CPUs, and elements of that philosophy are undoubtedly reflected here. Single-threaded performance and 1080p gaming are unrivalled, with the 7600X disposing of the current competition without worry. Tune up to multi-threaded workloads and the 7600X struggles a little. 6-cores feels a little lightweight in honesty, with Ryzen 5-tier CPUs not showing much growth in core count since their release 5 years ago. This was reflected in the lacklustre results in a number of our multi-threaded oriented benchmarks.
There are also one or two 'outside' issues we have with recommending the Ryzen 5 7600X. The lack of affordable motherboards, and requirement to purchase a more expensive 'Extreme' chipset motherboard to access widespread PCI-E Gen 5.0 support feels a little backwards. The requirement to use expensive DDR5 memory also pushes the cost for consumers up, and muddies the waters for more affordable chips like this. Pricing on memory in particular will fall, but motherboards look to stay fairly pricey for some time.
For gaming, the Ryzen 5 7600X is undoubtedly a top performer, but this isn't without added cost and expense to get yourself off the ground.
Conclusion
AMD Ryzen 5 7600X
Product Name: Ryzen 5 7600X
Brand: AMD
Features

Thermals

Performance

Value For Money
Summary
AMD's newest Ryzen 5 7600X is a welcome addition to the market and ultimately, an answer to Intel's 12th-gen line-up of CPUs. This mid-range processor fairs well in single threaded performance and also dominates when it comes to gaming at 1080P and 1440P resolutions. We were somewhat disappointed when comparing the 7600X to similar CPUs like the Core i5 12600K for multithreaded benchmarks, so be wary if you are looking for a chip that also performs well for video editing or game streaming.
With further BIOS optimisations, AMD could well be on to a winner with this 7000 line-up of CPUs, having created a mid-range gaming chip that easily disposes of its rivals. Just watch out for expensive motherboards and pricey RAM when looking to build a killer price to performance oriented build.
Pros
✅ Excellent single threaded performance.
✅ EXPO memory profile provides a performance boost.
✅ Very reasonable price tag.
Cons
❌ Multithreaded performance isn't excellent.
❌ AM5 mounting is frustrating.
❌ Doesn't handle great at 4K resolutions.